*I received a $50 gift card in order to purchase the items mentioned in this post. All opinions are mine. 
I am not a fashion blogger nor do I play one on the internet. Honestly, my entire wardrobe could use a little help. It consists of about 30 black shirts, a few black skirts, 2 pairs of jeans and some khakis. And that is about it.
Ok, there are many other things hiding in there but because my fashion sense is pretty limited I typically pair solid color tops with solid color bottoms. I also use very few accessories. As a matter of fact, I get a little jealous of my best friend because she has the uncanny ability to pick out the perfect outfit.
When I was offered the opportunity to check out the Meijer Fall Fashions, I was pretty excited. I love our Meijer store. We get our prescriptions filled there, they have a great garden center, fantastic bakery and I love that I can order pictures online and pick them up in store.
However, I have honestly never bought even one piece of women's clothes there. No reason for it. Just that I am a creature of habit. I tend to shop at the same three stores and don't venture out of my comfort zone.
So yesterday, little man and I stopped in our local Meijer and headed to the Women's department. I was pleasantly surprised by how large it was. (Again, I shop there all the time but never really noticed the clothes.) They have several familiar brands including Levi and Falls Creek. They also have a new to me brand, Massini, that really caught my attention.
Because I have been trying to step out of my box, I made a promise to myself not to buy a solid colored top. I was instantly drawn to the open cardigans but since I have 3 already, decided to pass. I also really liked this sweater dress but since I am breastfeeding, dresses are not getting a lot of use these days.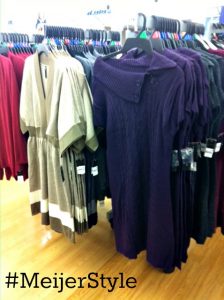 So I decided on this shiny striped top and black slacks. Ok, I know I said no more black but I do actually need these. They are a little more, lets say, post pregnancy friendly. If you  know what I mean. I had really wanted to get a scarf but couldn't find anything that went well with the shirt so I settled on this earring and necklace set. It will be the perfect date night outfit for my 10th wedding anniversary which is coming up in a couple of weeks.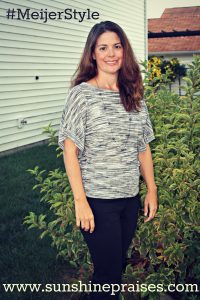 Meijer's is currently hosting a "Pin It to Win It" contest and you could win one of 5 $100 gift cards. Just head over to the Meijer's Pinterest board and then repin any 5 of the fabulous fall outfits to your fashion board. Once you are done just fill out the form by clicking on this link.
I was very impressed with all the fantastic options that Meijer has to offer.
Make sure you check them out to complete your affordable and fashionable fall look.