Disclaimer: This review was made possible by ThanksMama.com They provided me with a diaper of my choice. All thoughts, ideas and opinions are my own.
I absolutely love to try out new diapers. There are so many to choose from and that is one of the reasons I like to visit fabulous websites like ThanksMama.Com, where I can find a good selection of quality cloth diapers, natural parenting products and accessories. For this review I was sent the Kissaluvs Marvels AIO cloth diaper in green.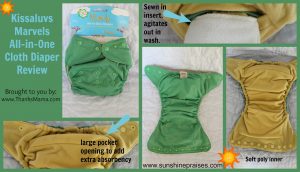 Here is something you should know about me. Even though my diaper stash is made up of 90% pocket diapers, I really prefer AIO diapers and if I could figure out a way to keep hook and loop from falling apart, I would have an entire stash of AIO's in hook and loop. This particular diaper caught my attention because it is kind of the best of both worlds (minus the snaps).
First it is an AIO diaper as there is no need to search and match your inserts. Instead it has a unique design in which the microfiber insert is sewn into the pocket of the diaper. It agitates out on its own and after it dries, all you have to do is tuck it back in. I like this feature for two reasons: 1)you can use the pocket to adjust the absorbency of the diaper if necessary and 2) it cuts down on the drying time.
So lets get down to the nitty gritty details…
Performance:
The Kissaluvs Marvles AIO is a generously sized diaper that is made to fit from 7-35lbs. I wish I would have been able to test on Ezra when he was a little smaller but now at 5 months is already a whopping 18lbs. I used the diaper on the 2nd rise and could bring it around almost to the center snaps. The diaper fit nice around the legs and didn't leave any marks on his legs. I am a huge fan of the elastic at the back of the diaper because it kept Ez's goopy EBF poo from running up the back of his clothes. (Trust me when I tell you the "up the back" blow outs are typical in our house) We also didn't have any leaks in the legs either.
Fit:
Is it cliche to say that the diaper fit marvelous? Really. The Marvels diaper had an amazing fit on little man. Being at that mid-weight and not on the move yet, it did give him a bit of a fluffy bum but I don't mind a little cushion on the back side. I could probably have made the diaper a tad more snug but it fit great with just the two snaps left and there is plenty of room to grow in this one.
Cost:
The Kissaluvs Marvles AIO diaper retails at  $22.95. As far as I am concerned, this is an excellent investment for your stash. It is the type of diaper that you are going to find yourself reaching for from birth to toddler hood.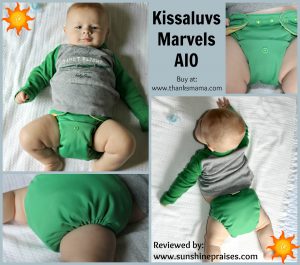 Overall:
I love the soft PUL outer and super cozy fleece inner and I really liked the yellow toned inside. I love diapers that use colors other than white on the inside of the diapers. I said it already but not only is the stay-dry fleece ultra soft it also feels thicker than what you normally find in a pocket or AIO cloth diaper. As a matter of fact,  I am going to be keeping my eye out for a sale because I would like to add the chocolate brown and lagoon blue to my stash.
Buy:
You can buy the Kissaluvs Marvels AIO and all your other cloth diapering needs from Thanks Mama. It is the perfect place to pick up everything you need for baby, toddler, child and Mom!
ThanksMama.com is your go to cloth diapering website. They offer an amazing selection of premium cloth diaper brands, baby wearing accessories, potty training, toys and more. Bookmark them today! Like them on Facebook. Follow on Twitter and Pinterest.