Disclaimer: I received this beautiful dress in order to conduct this review. Regardless, I have provided my truthful opinion of the product. All thoughts, pictures, ideas and opinions are mine alone and in no way affiliated with any social medial network.
One of the biggest challenges to my post baby body is trying to find clothes that are comfortable, have easy access for baby and still look stylish. I am always hesitant to buy items online without knowing how they might fit. However, I really liked that Eshakti.com offers custom fitting for all their online fashion.
For this review, Eshakti let me choose one item from their vast online store. It was a very difficult decision because there are so many beautiful dresses. I also appreciated that many of their styles come in a variety of colors which makes it easy to find something that favors my skin tone. I tend to gravitate towards darker colors for my job but this time I decided to choose something that would be perfect for Easter.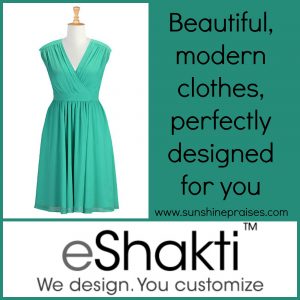 After looking through the choices, I picked the Sienna Dress in Aqua. The dress can be customized in length and sleeve type. It slips over head but also has a side zipper to make getting it on and off a little easier. There is also a center snap to keep the low cut v-neck from falling open.
Immediately out of the package I was impressed with the Sienna dress. The chiffon fabric was silky and very light but had a luxurious overall feel. The lining is a polycrepe and flows nicely with the dress. Also the color was true to the website sample making it perfect for spring.
While I absolutely love the feel and length of the dress, it did not fit me as well as I would have liked in the bust area. Proportionately, I fall right in between a 6 (small) on the top and an 8 (medium) on the bottom. I had chosen the size 8 and unfortunately my smaller chest left the dress sagging a little more than I anticipated. I tried wearing a padded bra but then the bra was showing through the v-neck. I ended up pinning the dress in a couple of places to achieve a better fit and much better look.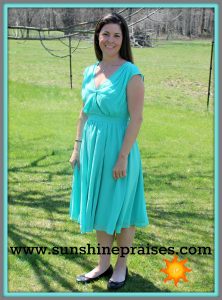 Overall the dress is quite stunning and I felt is amazing wearing it. Now I know that I am better off selecting a crew neck or other higher cut neckline. I have already been looking at some of the other styles, particularly skirts that have that same sassy, flirty appeal to them that would make them perfect for all your spring and summer festivities.
Eshakti has so many beautiful styles in dresses, tops and skirts. Perfect for Mother's Day brunch or a summer wedding. The website allows you to customize your collar, sleeve and length on most of their products with only a minimal up charge.
You can find the beautiful Sienna dress ($99.95) as well has many more dresses, skirts and tops on their website. You will also want to visit their Facebook, Twitter and Pinterest sites.