*I was provided free movie passes in exchange for the promotion of this event. All thoughts, ideas and opinions are my own.
There is nothing worse during the summer than a rainy day or a day that is just unbearably hot. Not to mention those level 5, red alert pollution days. You know the ones that make is seem like going outside is super dangerous. On those days, you are trying to find something that is not only fun but indoors and air-conditioned.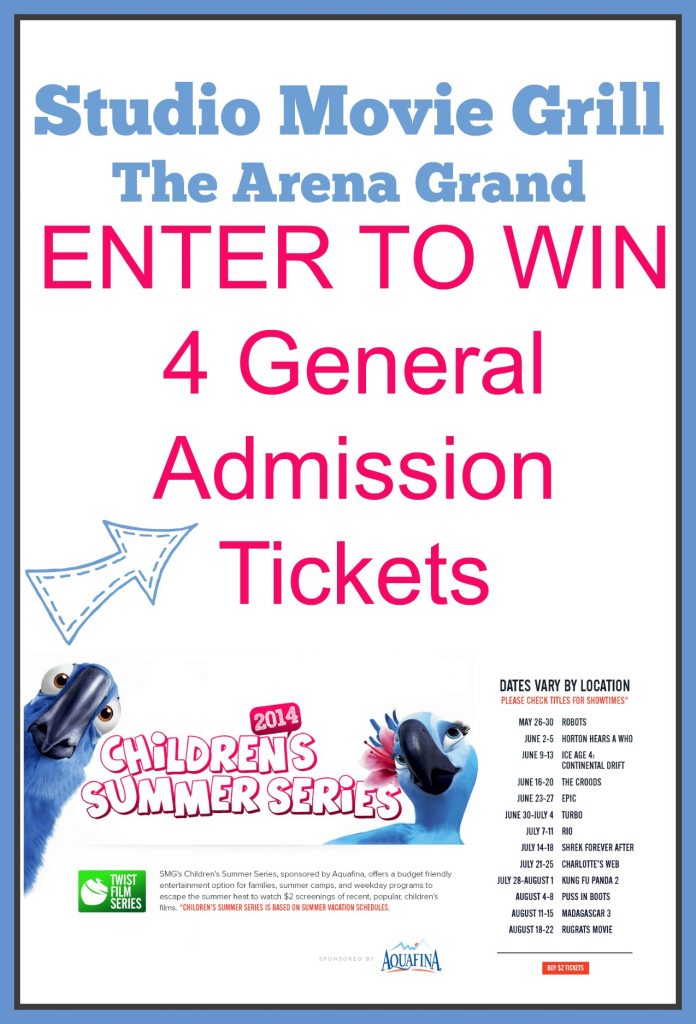 That is why I am super excited to tell you about Studio Movie Grill's Summer Movie series at the Arena Grand. Located in downtown Columbus, Studio Movie Grill is a full restaurant and movie theater. The summer series is perfect and budget friendly way to beat the heat for only $2.00 per movie. All movies start at 11:00am and run weekdays during the summer. No checking all the different theaters for which day they host their children's movie. Just show up, any day at 11:00 and enjoy a recent kid friendly movie.
Here is the schedule:
June 2-5 – HORTON HEARS A WHO
June 9-13 – ICE AGE 4: CONTINENTAL DRIFT
June 16-20 – THE CROODS
June 23-27 – EPIC
June 30-July 4 – TURBO
July 7-11 – RIO
July 14-18 – SHREK FOREVER AFTER
July 21-25 – CHARLOTTE'S WEB
July 28-August 1 – KUNG FU PANDA 2
August 4-8 – PUSS IN BOOTS
August 11-15 – MADAGASCAR 3
August 18-22 – RUGRATS MOVIE
Studio Movie Grill Arena Grand
11 a.m. Showtime 175 West Nationwide Blvd. | Columbus 43215
614.456.1298
Head on down to the Studio Movie Grill, escape the heat and catch a great flick. You can also make a day of by checking out the fountains or the commons after the movie!
It's your lucky day! Enter to win 4 General Admission tickets to ANY* movie at Studio Grill during my Facebook Giveaway. 
*Tickets are good until June 30, 2014 and are good for 2 Adults. Restrictions apply.