You can find Part 1 of our story here!
I know this is going to be shocking but when they first told me that the baby was probably Deaf, I didn't tell my husband. I didn't tell him because in the Deaf community, having a Deaf baby is a really really good thing. It is a high-five your buddy, last second touch down kind of thing.
I didn't tell him even after the baby failed the second hearing test.
I waited until we were back at home and I was certain that the baby might really be Deaf. I made the comment fairly casually and emphasized that the hospital audiologist said that it might just be fluid build up in his ears. I could tell that Chris was excited yet hesitant. He kept saying that he knew the baby could hear.  However, intuitively, I knew that this little one was different.
They recommend the first hearing test be done at one month so we had a 3 week wait until we knew for sure. In the mean time, I took mental notes of things the baby could hear and couldn't hear. Dog barking - Check. Dishes clattering – Check. Clapping – Yes. Kids screaming while running through the house – No. Mommy's voice – No. Phone Ringing – No.
It became quite common place for anyone who was with us to comment on whether they thought he had "responded" to some sound. People would hold him and adamantly declare that he could hear. Other's would do the same and label him Deaf. It was a very slow waiting game.
Finally the day arrived that we all had been waiting for. Testing day. Ez and I loaded up in the car and headed out to Children's Hospital. The test was slated to run 2 hours and he needed to sleep for most of it.
Our audiologist came out to meet us. She ushered me into a little room and let me nurse him. We talked about the family history of Deafness. We talked about the things I thought he could hear and the ways he seemed different. When he was asleep she placed electrodes behind his ears and on his little head. Then she placed small headphones into his ears.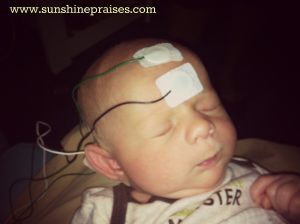 Then we sat.
She clicked buttons on her computer.
It was very very quiet and time seemed to stand still.
We chatted a little. She is a believer and in the process of adopting. (Jesus always has a way of putting people in my path.) I told her about our infertility journey.
Occasionally she made comments about the testing taking longer because he had a lot of  "omissions" but I didn't really understand what that meant.
He started to stir and the test was over.
I could tell that she was searching for the right choice of words. I mean, I am not your typical parent. I sign fluently and am married to a Deaf man. However, my guess is that she knew (better than me) that her words would be harder to take than I was expecting.
Well…
Her: Yes, Ezra definitely has a hearing loss.

Me: So, like, hard of hearing or more moderate?

Her: No, he is more in the severe to profound range.
I was more shocked than I expected. There was a lump in my throat. I felt slightly sad almost as if I could cry yet not, all at the same time. I stared at his tiny amazing little self and wondered how he could be so perfect yet imperfect at the same time.
And so the journey begins.
I am the mama of a Deaf baby.
He is my perfect gift from God. 
Psalm 139: 14-16
For you created my inmost being;
you knit me together in my mother's womb.
I praise you because I am fearfully and wonderfully made;
your works are wonderful,
I know that full well.
My frame was not hidden from you
when I was made in the secret place,
when I was woven together in the depths of the earth.
Your eyes saw my unformed body;
all the days ordained for me were written in your book
before one of them came to be.