One of our favorite parts about having our Elf is the grand finale that we plan on his last night with us. We are not super crazy during the rest of the month but on December 23rd, watch out because you never know what you might discover the next morning. Our elf has filled the entire first floor with snow flakes, created a floor to ceiling gift wrap Christmas tree that included a flying paper airplane, and a 5×5 foot snow man family poster.
Does your Elf have a leaving tradition? Let me know what it is by leaving a comment on this blog post!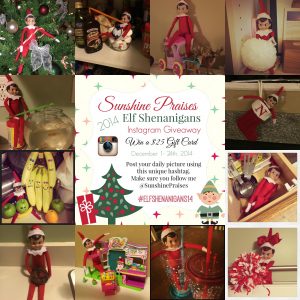 Jump over to this Facebook thread and show me your Elf Shenanigans photos! Do you have a funny story from this year? Did your toddler eat the elf's head? Maybe your dog destroyed it? How many nights did you forget to move it? Share on Facebook!
I wanted to take a minute to remind everyone that I am still giving away $25 to one random Instagram follower. Even if you haven't been participating from the beginning, just go back and add the hashtag #elfshenanigans14 to all your elf pictures and you might win!
Disclaimer: This is a non sponsored giveaway and not affiliated with Instagram.