No lie. I am thirty pounds over weight. I have been lazy and significantly under training. Well really, I haven't been training at all, unless you count chasing my toddler.  I had signed up for my second duathlon of the summer and didn't want to back out. So this morning I tossed my bike up on the rack and headed out for my second duathlon for the year.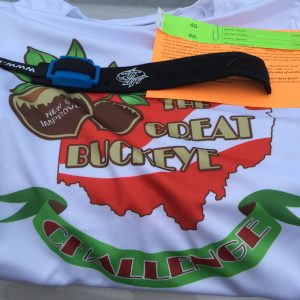 The Great Buckeye Challenge is a multisport event with several options for athletes of every level to participate. You have both a triathlon (swim, bike, run) and a duathlon (run, bike, run) options in the Mini (this is what I did), Sprint, Olympic and Half. Hosted by HFP Racing, the Great Buckeye Challenge is one of their signature events.
I knew that I didn't want to injure myself so I was fully prepared to walk my run portion and do my best to make up time on the bike ride. The Mini race is a 2 mile run, a 10 mile bike ride and another 2 miles run. I had a great first mile with my friend Charlotte but my shins were not feeling so great and I knew I needed to stop. She was running the Sprint so when it was time for me to run around, I decided to start walking.
It had rained earlier so as the sun came up, it was extremely humid and hot. I made it to transition feeling really great and started off on the bike ride. The race was in an area that I am not as familiar with and it was much more hilly that the other tri/du's that we had raced in the past. I was pleasantly surprised with my bike time.
After finally making it back to the final transition, I had a fairly slow and uneventful two mile walk to finish the race. I would have liked to have been done in about an 1:40 minutes but alas my total time was 1:54:16.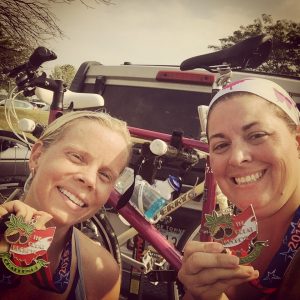 Overall, I had a great time. I am thankful for my fabulous running partner who has stuck by me for the past 4 years and always makes me a better runner than I really am. I am hoping this race kicks me into gear so I can start getting back to regular training.
#RUNHAPPY
#DotheDu