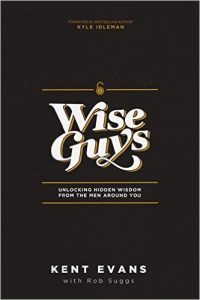 When I got the request to review the book Wise Guys by Kent Evans, I almost passed it up. I mean what do I, a woman and a Mom need to read a book about men for? Then I realized that I am raising young men and more importantly that I have a husband who is a crazy avid reader. He loves to delve into inspiring biblically based books, so I requested the book for him to make his Sunshine Praises debut.
The Husbands Review:
I have met many men in my life and I enjoy talking with those who seem to have wisdom that I do not yet posses. When I meet someone who is wiser than me, I ask myself how did he get his wisdom? Sometimes I will ask them and they will say they studied the Bible or they have lived a long time. Plus, I always ask Lord to give me the wisdom for understanding and insights. There is much to gleam from a "wise" person.
My wife, Melanie, gave me the book, "Wise Guys" At first I thought, ughh another book about wisdom but I went ahead and read it anyways. I am very happy she encouraged me to read this book.
Kent Evans really seems to know what wisdom looks like. He didn't beat around the bush on how one will become wise. He described why many men fail to understand and become the man who God wants us to be. Kent emphasizes that all men, even us "guys" need wisdom in our lives. In today's world, men are often encouraged to "man up", to be a warrior but rarely are we encouraged to be humble and seek wisdom. The book is right, that a healthy life is all about obtaining wisdom, understanding God's plan,  being insightful and putting others first. 
Kent Evans was able to talk straight to my heart, he helped me to examine my own pride and ego and helped me realize that I need to turn my attention on building deeper relationships with the men around me.
The Wise Guys is an excellent instructional book for me seeking a deeper relationship and wisdom from those around him. Plus Kent is right about his mother, If she would ask me why I didn't buy it sooner, I would have asked myself,  why I didn't read it any faster?
(And yes, I would let her take a selfie with me.)
About the Book:
For guys, more than ever, it's a confusing world. Your GPS doesn't offer any maps showing how to get to the point of wisdom — and who likes asking for directions anyway? But there are ways to get that guidance you need. The answers may be all around you, in the form of guys you already know. Wise guys. More experienced guys. Better-traveled guys. Could there be ways to tap into their invaluable knowledge without enduring dull lectures or taking pages of notes? Kent Evans has surrounded himself with these wise guys. They have shown him all the back roads on the way to wisdom. With a great deal of humor and an endless supply of stories, he wants to show you how to gather life-enriching truth from the guys in your own circle.
About the Author:
KENT EVANS is the board chairman and co-founder of Manhood Journey, a ministry that helps fathers and mentors build the next generation of godly men.  Kent has personally experienced how the guidance of godly men can change the course of a life.  Today he is blessed with a solid 20-year marriage, four wonderful sons and a fulfilling life – largely because of what he's learned from other men.  He lives in  Louisville, Kentucky, and can be found on Twitter @manhoodjourney.
Learn more about the Manhood Journey and Kent Evan's new book Wise Guys at:
Disclosure (in accordance with the FTC's 16 CFR, Part 255: "Guides Concerning the Use of Endorsements and Testimonials in Advertising"): Many thanks to Propeller Consulting, LLC for providing this prize for the giveaway. Choice of winners and opinions are 100% my own and NOT influenced by monetary compensation. I did receive a sample of the product in exchange for this review and post.