It has been a while since I posted any new sweet little faces. A couple of weeks ago, my heart jumped when I read the advocacy post of another darling deaf waiting child. When I reached out to her advocate, I was told the agency also has 2 other deaf children on their list. Of course, I firmly believe that every deaf child deserves a family, so I had to share all three of them.
Wasatch provided me with a lot of information regarding each of these children so what I am sharing is just a snippet of their advocacy information. I also have video links to each of these beautiful girls to share with interested families.  If any of these three beautiful children touch your soul, please leave a comment, send me an email or reach out directly to Kathy at Wasatch.
Meg (age 3)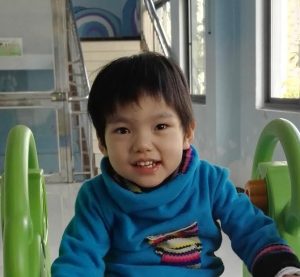 This is the little one that made my heart leap. Look at those eyes. Here is what her December 2015 report says:
In December 2014, Meg was diagnosed as hearing loss of both ears. This cute little girl is unable to hear all kinds sounds, and the nannies feel sorry for her at the thought of it. Because she can't hear it, she doesn't speak, and is unable to express her needs by languages. Now Meg is 3 years old, and is active and cute, clever and restless. She is passionate for life, likes new things, likes to play with the children's slide and bright toys, particularly the balls. She is able to walk alone, and can take off trousers. She is difficult to communicate with others using the language due to hearing loss. She is lower in reaction to the things than the peers. The nanny cares this cute girl carefully. She lives happily with other children in the institute. Grant funding available to qualifying families up to $2500.
Suzy (age 1)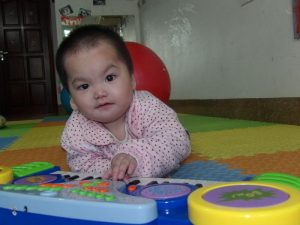 Suzy is on the agency individual list as a special focus child. She is 1 years old and has microtia & atresia but has some hearing. HIE is also questioned. According to an adoptive parent, she is at a great facility and another parent has offered to discuss her special need with prospective families. Grant funding available to qualifying families up to $2500
AN UPDATE FROM MARCH 2016 SAYS:
When we call to Suzy and talk to hear, she reacts to us. Although her medical doctors suspected she had brain damage, now her situation is much better and she has good physical development. She can stand with help, but can not walk or talk.
A REPORT FROM SEPTEMBER 2015 SAYS:
Suzy has good physical and mental development. At age 4-5 months, Suzy could turn over, kick legs, make fists, stretch limbs; she was very active; could shake toy; could follow sound.
Suzy is active, cheerful, and has a ready smile. She can make sounds such as DA and MA; can match pronunciation to objects; understand facial expressions and can respond.
Haley (age 6)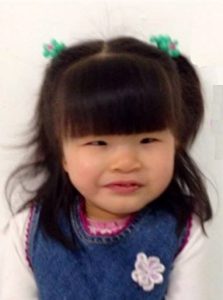 INDIVIDUAL LIST – SPECIAL FOCUS
Haley is on the individual list, special focus. She is 6 years old and has postop anal atresia, extra digits and deformed ears. Haley lives with a foreign foster family and speaks English and Chinese. Haley had a successful anal atresia surgery in 2010 with the help of Love Without Boundaries. Haley is very clever and nice, she can understand Chinese and English, can do some gesture language, such as: please, thanks. She likes helping, if the cupboard is not closed, she can help to close. She is curious about new things, she can go to have a look, and have a touch. She especially likes rag dolls, also likes cloth and blankets, she also likes covering herself with cloth or blanket, or seek other's help. She likes to look at herself in the mirror, and every time when she is in nice clothes, she will look at herself in the mirror. Haley is cute and kind, she can share toys with other children. The child has good limbs ability, she can walk steadily, can go upstairs and downstairs without help, she likes to dress-up herself. Grant funding available to qualifying families up to $2500.
Could one of these beautiful girls be your future daughter? 
Please let me know if you have any general questions about the adoption process or if you need any assistance. While I am all new at this, I will do my best to find out the answers and walk with you down this amazing journey.
Disclaimer: I am not affiliated with these children or the agency and have not personally reviewed any individual child's folder. Any information pertaining to their adoption should be requested from an appropriate agency.