This past Monday night, the kids and I once again were treated to a preview of the newest Disney movie, Alice Through the Looking Glass. Being a sequel, I don't think I had the same level of excitement that I normally do for a Disney movie and I wasn't exactly swayed by the trailers. Of course it IS Disney, so I shouldn't have been surprised that I enjoyed it as much as I did.
First off, if you are reading this review and are planning on going to see the movie, take 2 hours, make a fresh batch of popcorn and revisit the first film. Especially if you have younger children that might need some of the back stories and character development. There are a lot of subtle references, especially in the humor that fall short if you don't have it fresh in your mind.
Once again, Johnny Depp plays the Mad Hatter superbly well. Quirky and bizarre, the Mad Hatter fulfills all your expectations. He is a little more downtrodden than in the first movie but non the less steals the show. I loved how they used his hair color and eye color changes to express the mood of the story. I need to go back and see if they do the same thing in the first movie, I don't think so, but I can't remember.
Alice, played by Mia Wasikowska is outstanding. Her character has a huge task to complete in trying to find The Hatter's family and unlike the first film, she is filled with confidence. She moves easily through the Underland with a noticeable familiarity and without the wonder and surprise you expect of Alice's character. Clearly her years in reality have changed her. However, her peculiar demeanor and penchant for falling into trouble have not faded. It is a pleasant change for the character who once seemed fearful and flakey, to instead be brave and
A new (and one of the main characters) in the movie is Time, played by Sasha Baron Cohen. Alice has stolen his Chronosphere and is attempting to return to the day of the Jaberwocky to see if she can figure out what happened to The Hatter's family. Of course messing with time is always a dangerous sport and that is how our story unfolds. Time (the character), like in real life, is a very likable enemy. He is not only trying to literally save time from Alice, he is also trying to prevent the Red Queen (Helena Bonham-Carter) from time traveling, as she desperately wants to go back in time to change her past.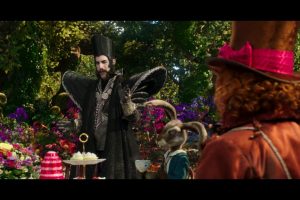 I don't want to spoil any parts of the movie but I will say that I always enjoy glimpses into the past that explain someone's present. I think Alice and the Looking Glass does a fantastic job of weaving the past with the present on the dizzying journey. So much of the first story is explained that character's that you once despised, you will  now see in a different light. Not that it makes their actions any less horrendous.
This wouldn't be a decent review if I didn't at least mention the incredible imagery and direction. The combination of live sets, visual graphics and the live actors creates a beautiful, magical, whimsical land. The colors are vibrant and stunning. There were points in the film when my seven year old daughter would ask, "is that real or fake?" The large heart popping out of the deserted land where Iracebeth was imprisoned is simply remarkable. The imagery of the heart, her large head, the roots that could be veins, the desolation is simply my favorite scene in the entire film.  wish there was a public image that I could share but there isn't, so this poster will have to do. Beautiful right?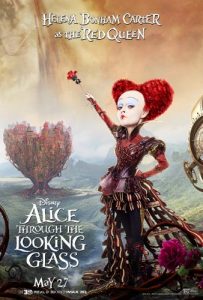 Overall, I really enjoyed the movie. I wish I had taken time taken time to really sit down with my kids and watch the first one before we went to the theater. I think they would have enjoyed immensely more and that would be my number one suggestion for anyone planning to see it in the theater.
For parents wondering what ages I would recommend the movie for, I am going out on a limb here and say that I am honestly not sure. It is rated PG. There is some suspenseful content but no killings, no significant sexual innuendo. It is a lot less violent than the first movie. The premise of the movie is definitely on the heavier side and it may not keep the attention of a younger child unless they just really enjoy the visual effects and weirdness of the storyline. If you still aren't sure, watch the first one and then decide.
My kids are seriously working on their video review skills. Each time I am seeing an improvement, less coaching, more natural reaction. Now I just need to get them into the details. However, I do think their opinions are important so be sure to watch their review videos:
Watch Lu's (7 years old) video on YouTube!
Watch Eph's (11 years old) review video on YouTube!
Have you seen it? What did you think?
Like ALICE THROUGH THE LOOKING GLASS on Facebook.
Follow ALICE THROUGH THE LOOKING GLASS on Instagram.
Follow WALT DISNEY STUDIOS on Twitter: 
Visit the official 

ALICE THROUGH THE LOOKING GLASS

site. 
ALICE THROUGH THE LOOKING GLASS

is now playing in theatres everywhere!