Disclaimer: My family and I were offered tickets to this event. All information shared is my own personal opinion.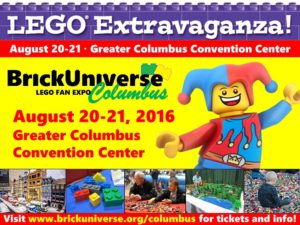 With three kids in the house there is no surprise that we have a plethora of LEGO bricks. I am pretty certain we have enough Minifigures to take over a small city. Not to mention the crazy variety of kits that allow us to send LEGO dinos on adventures with SpongeBob and Darth Vader to the moon. Seriously though, for a zillion years, LEGO has continued to be enjoyed by children of all ages and genders.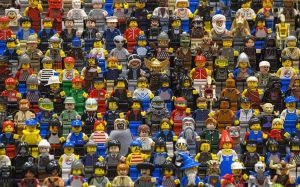 This upcoming weekend, Columbus Convention Center will host the LEGO BrickUniverse. These types events are always a blast and give kids the opportunity to build using unlimited amounts of bricks and ideas. There will be activities for ALL AGES! Check out all the details below!
The

LEGO

BrickUniverse Convention
When:
August 20: 10pm-4pm (LIMITED AVALIBILITY)
August 21: 10pm-4pm
Where
Greater Columbus Convention Center (Hall E)
400 N High St.
Columbus, OH 43215
Info:
The LEGO BrickUniverse Convention is coming to the Greater Columbus Convention Center August 20-21! The LEGO BrickUniverse Convention will offer children of all ages an opportunity to build, create and enjoy an immersive LEGO experience through engaging play areas, family-oriented building activities and more.
Featured activities include:
Challenge Zone: the whole family is on the hook to show off their creative building skills in this emceed challenge
Building Zones: enjoy a creative build, play, and display area

LEGO

DUPLO: the youngest builders can explore building their imaginations and so many ways to play with DUPLO bricks
Monochromatic Builds: limiting the materials to one color and one size creates amazing results

LEGO

Architecture: Build intricate and detailed

LEGO

models using thousands of white

LEGO

Architecture bricks

LEGO

Retail: purchase

LEGO

merchandise and goodies
Fan Zone: with creations from some of the world's best

LEGO

Fan Builders
BIONICLE Warrior Building: construct a

LEGO

BIONICLE Warrior

LEGO

Artist Rocco Buttliere: Over 40 different world skyscrapers and landmarks built-to-scale in

LEGO

BRICK Theater: learn from

LEGO

experts, artists, master builders, and author in teaching session throughout the day
Minifigure Art: Get yourself "legoized"
And much more!
Buy all your tickets and get more information on their website at  www.brickuniverse.org/columbus
Save