One of the greatest joys of having a little boy is their passion about everything that moves. I don't know what it is but both my boys have always loved trains. We had our very first Day Out with Thomas about 9 years ago. I went digging last night into my albums to find these two precious pictures of Eph. Oh goodness, he was so small. That was his very first trip to take a ride on Thomas and we had such an amazing day. I can't wait to take Ezra next month.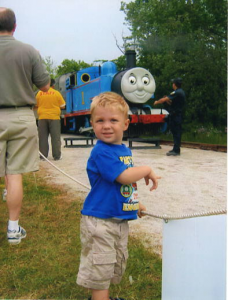 I love that the Day Out with Thomas is a quick ride in the train. It's the perfect amount of sitting for the average preschooler, plus the kids can participate in all the other fun activities around the station. Sir Topham Hatt will be around for selfies. There is also a large tented area for tattoos, free play and crafts. If you child doesn't already have every Thomas the Train item imaginable, there is a large merchandise tent to help Mama spend her money.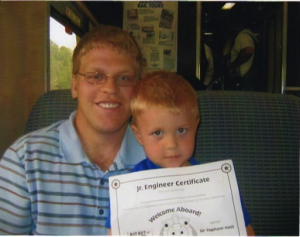 (OMG, isn't that the cutest picture of my husband and son from 2007? My husband looks so YOUNG!)
About the tour:
DAY OUT WITH THOMAS™: THE READY, SET, GO TOUR 2016 MOVES FULL STEAM AHEAD TO THE LEBANON MASON MONROE RAILROAD FOR THOMAS' BIGGEST YEAR EVER!
 AUGUST 19, 20, 21, 26, 27, & 28.
Lebanon, Ohio (2-4-15)— Start your engines! Thomas the Tank Engine invites little engineers to team up with him for a day of family fun at Day Out with Thomas: The Ready, Set, Go Tour 2016. Children everywhere can join Team Thomas when the #1 Engine pulls into The Lebanon Mason Monroe Railroad on August 19, 20, 21, 26, 27, & 28.  Day Out with Thomas: The Ready, Set, Go Tour 2016 is presented by Fisher-Price.
This fun-filled event offers children and their families the opportunity to take a ride with Thomas the Tank Engine, star of the popular Thomas & Friends™ series. In addition, they will meet Sir Topham Hatt, Controller of the Railway and enjoy a day of Thomas-themed activities.  The tour, now in its 21st year, will make 43 stops across the U.S. and Canada and is expected to welcome nearly one million passengers in 2016.
WHO: Thomas the Tank Engine
WHAT:
A 25-minute (approximate) ride with Thomas the Tank Engine and hear Thomas greet his fans!

Meet Sir Topham Hatt, Controller of the Railway

A Thomas & Friends Imagination Station featuring a variety of activities.

Storytelling, video viewing and live music
WHEN: August 19, 20, 21, 26, 27, 28
TIME: 10:30, 11:15, 12:00, 12:45, 1:30, 2:15, 3:00, 3:45
WHERE: 127 S Mechanic St       Lebanon, OH 45036
Tickets for Day Out with Thomas: The Ready, Set, Go Tour 2016 are on sale now and available by calling Ticketweb toll-free 866-468-7630, or by visiting www.ticketweb.com/dowt.  Ticket prices are $19 plus tax for ages 2 and up (service charges and fee may apply).
For more information and directions, contact the Lebanon Mason Monroe Railroad at (513) 933- 8022 or visit www.LebanonRR.com.
For information on Thomas & Friends, visit www.thomasandfriends.com
GIVEAWAY
Winners tickets will be for Friday, August 26 between 1:30-3:45PM and picked up by will call. Specific time will be at the discretion of the railroad. **Please only enter if this date and time will work for you.**
Enter on this form below. Giveaway ends on August 13th at 11:59PM. Winner will be drawn on August 14th and will need to respond within 24 hours. Thank you for entering.
Follow Thomas & Friends on Facebook at www.facebook.com/thomasandfriends and Twitter @ThomasFriends.  #DayOutWithThomas