This is the final weekend for the Lebanon, Ohio Day Out with Thomas event and if you have little ones that love trains you should make this a must do in your weekend plans. I took Ezra and his best little buddy this past Sunday and they had the most amazing time. The boys were in absolute awe of seeing Thomas up live and in person.
The Lebanon-Mason Railroad is located about an hour and 15 minutes south of Columbus in an adorable little town. If we hadn't have had two very over stimulated boys, I would have loved to shop or grab lunch in some of the cute little stores. The train event has a food cart, lemon-aid stand and some other snack options with picnic tables. You might even want to consider packing a picnic lunch to eat while playing some of the fun games they have outside.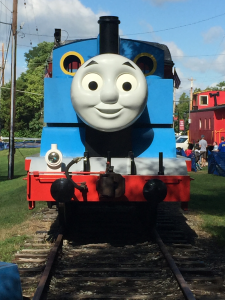 In addition to the 25 minute ride on Thomas, there are two inflatable bounce houses, a tent filled with toy trains to play with, the option to meet with Sir Topham Hat, a story time tent and of course a shop to load up on all your favorite Thomas trains.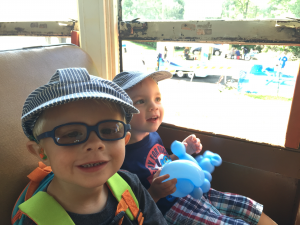 Here are all the details you need to know check out Thomas this weekend. I took a peak at the available tickets and there are still great tickets available! While I know "Car 1" is the popular car, one your child is on the train, they really won't know the difference. The train makes a nice 25 minutes drive up the road, they play popular Thomas the Train songs and hand out certificates to all the children.
Here are all the details you need to know to take your kids to see Thomas this weekend!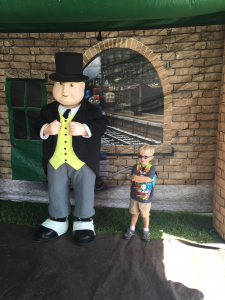 About the tour:
DAY OUT WITH THOMAS™: THE READY, SET, GO TOUR 2016 MOVES FULL STEAM AHEAD TO THE LEBANON MASON MONROE RAILROAD FOR THOMAS' BIGGEST YEAR EVER!
 AUGUST26, 27, & 28.
Lebanon, Ohio (2-4-15)— Start your engines! Thomas the Tank Engine invites little engineers to team up with him for a day of family fun at Day Out with Thomas: The Ready, Set, Go Tour 2016. Children everywhere can join Team Thomas when the #1 Engine pulls into The Lebanon Mason Monroe Railroad on August 19, 20, 21, 26, 27, & 28.  Day Out with Thomas: The Ready, Set, Go Tour 2016 is presented by Fisher-Price.
This fun-filled event offers children and their families the opportunity to take a ride with Thomas the Tank Engine, star of the popular Thomas & Friends™ series. In addition, they will meet Sir Topham Hatt, Controller of the Railway and enjoy a day of Thomas-themed activities.  The tour, now in its 21st year, will make 43 stops across the U.S. and Canada and is expected to welcome nearly one million passengers in 2016.
WHO: Thomas the Tank Engine
WHAT:
A 25-minute (approximate) ride with Thomas the Tank Engine and hear Thomas greet his fans!

Meet Sir Topham Hatt, Controller of the Railway

A Thomas & Friends Imagination Station featuring a variety of activities.

Storytelling, video viewing and live music
WHEN: August 19, 20, 21, 26, 27, 28
TIME: 10:30, 11:15, 12:00, 12:45, 1:30, 2:15, 3:00, 3:45
WHERE: 127 S Mechanic St       Lebanon, OH 45036
Tickets for Day Out with Thomas: The Ready, Set, Go Tour 2016 are on sale now and available by calling Ticketweb toll-free 866-468-7630, or by visiting www.ticketweb.com/dowt.  Ticket prices are $19 plus tax for ages 2 and up (service charges and fee may apply).
For more information and directions, contact the Lebanon Mason Monroe Railroad at (513) 933- 8022 or visit www.LebanonRR.com.
For information on Thomas & Friends, visit www.thomasandfriends.com