There isn't a parent in the world that hasn't struggled with trying to get their children to try (and eat) a variety of foods. Vegetables, starches, fruits, meats, dairy. You name it, every tyke I know has gone through at least one food aversion period.
With my last two kids (Lulu and Ezra), I spent hours learning about proper infant/toddler nutrition. I delayed introducing solids and skipped the puree baby food in exchange for the more popular baby-lead weaning. At 9 months old, Ezra would have no problem chowing down on a chunk of steamed broccoli or half a piece of corn on the cobb. Now at 3 years old, he won't put a anything green in his mouth if I bribe him with chocolate chips and sprinkles.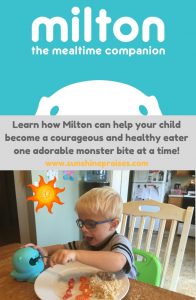 When Dan one of the founders of Sixty LLC  sent me an email asking me if I would be interested in reviewing Milton the Mealtime Companion, I couldn't say no. It came at the perfect time, as I had just been reading up on the Trust Model of feeding for our adoptive daughter.
The book Love Me, Feed Me by Katja Rowell has really changed my perspective on feeding my family. While written specifically for adoptive families, I could clearly see how the philosophies could improve our current feeding struggles. The general idea behind the Trust Model is that the parent decides the 'What, Where and When' and the child decides the 'How Much'. Meals are served family style and the children choose what (and how much) is put on their plate. There is no bribery, no two-bite rule, no no-thank you bite. With the implementation of the Trust Model changes to our mealtimes, Milton fit right in at the table.

The first night Milton joined us, Ezra was thrilled. He giggled and laughed as he stuffed Milton full of a little bit of everything on his plate. He made munching gestures and even fed Milton with the fork while asking him (in sign language) if his food was yummy.  However, he didn't really try any of the new foods, nor did he touch a single vegetable. For the next couple of weeks Ezra fed Milton pretty much anything. Straws, chicken nuggets, strawberries, toy cars even some dog food. Of course Milton's job is to encourage healthy eating but as we let Ezra be in charge (develop trust) of what Milton was eating, we noticed that he started trying foods that he normally completely rejected or spit out.
One bite of carrots for Milton, one bite of carrots for Ezra. Yum!
In the second half of the video, Ezra asks Milton in sign if he is READY to EAT, then feeds him the carrot and then asks him if it is YUMMY and then Ezra nods his head to say YES. This interaction really confirms for me the benefits of using Milton and demonstrates that kids are naturally inclined to feed and interact Milton.
Milton comes with a fun rhyming book with actual real photos depicting Milton eating a variety of foods. The book is clever and helps to set the stage for Milton at the table. Unfortunately, with Ezra's deafness, he still struggles in the watching me sign and looking at the book. We have read it a couple of times but we covered more ground by just making sure that Milton always joined us for mealtime.
I also want to add that in addition to helping children become more diverse eaters, Milton is an excellent tool for children with special needs. His wide mouth allows kids to develop their fine motor skills by practicing with proper utensils and encourages kids that might have oral/motor sensory issues to less scared of putting things in their mouths. Milton can also be used to model healthy dental hygiene by having your child brush and floss his teeth.
Some fun Milton Facts: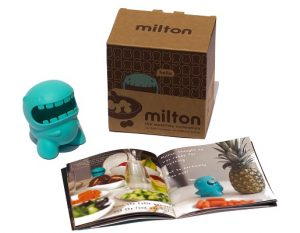 Milton the Mealtime Companion is available for purchase for $29.95 direct from their website and shipping is FREE within the US.
Save 10% when you by using the code miltonsunshine10 at checkout!
Find Milton Facebook, Twitter , Pinterest and Instagram.
Share your photos & videos of Milton on social media using his special hashtag.
#mealtimeswithmilton