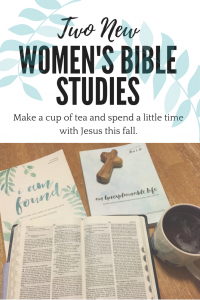 For more than 4 years I was blessed to be able to facilitate women's bible study at our church. My small group consisted of a women in their 20's all the way to their 80s and brand new Christian's to some amazing women with decades of wisdom. Choosing Bible studies that were interesting and beneficial for this varied group was always a challenge and with so many choices on the market, I could spend a full day in our local Christian book store trying to narrow down my choices but who wants to do that? That is why today I am bringing you a review of the first first women's Bible Studies by Moody Publishing.
While I know the first question I am going to get asked is, "is there a video?" Nope. There is not. While these studies could definitely be used in a group setting, they are also designed to be completed individually as part of your daily devotions or study time.
The first book, I Am Found, Quitting the Game of Hide and Seek with God, really grabbed me. I had recently written a blog post on adoption about our daughter being physically found and how that relates to our personal finding by God. Laura Dingman has written an outstanding study on overcoming our shame so that we can live fully the life God has planned for us. This six week study begins with a short Biblical teaching followed by five days of guided reflection. There is ample space to take notes and ends with section to really examine and put into action what you have learned.
This study focuses on helping women examine their personal stories and in turn develop deeper relationships regardless of our pasts. After reviewing the first few days, the study has a strong balance between scripture and personal appraisal. It would be a great choice for women looking to develop a deeper understanding of how God functions in their daily lives.
Knowing that we are all super busy Mom's and finding time to sit down and read the Bible can be such a challenge. The days work is pretty quick and I would guess most people could finish in about 15 minutes. It can easily be complete in the car before you head into the grocery store, during your morning coffee or right before bed. In addition to the study questions, there are also opportunities to memorize some scripture and focus on your personal prayer time.
The second book that I reviewed was the ten week study on Acts 1-12 by Erica Wiggenhorn, An Unexplainable Life, recovering the wonder and devotion of the early church. While I do enjoy self-help books I am much more inclined to pick to choose a study that really examines Biblical scripture. I find that I learn so much more when I am taken step by step through the verses than when I just sit and read on my own. While I haven't finished the entire study, I am enjoying delving deeper into these passages in the Bible than I have ever done before.
An Unexplainable Life can be used individually or as a group study. There is a Leaders Guide as well as group questions. However, it is also intended to be used for personal growth. This might be a great study to do with an online Facebook group or smaller group where you do not have to meet in person but have a place to really talk about what you are learning.
The daily work will probably take about 20-3o minutes. One of the things that really stood out to me is that the author encourages the participants to read the Biblical passages OUT LOUD. I love this! There is something about the way your brain learns and memorizes material when reading aloud. Plus the power that comes from speaking the Lord's word into the air is amazing. I love this practice.
Both of these books are part of a new women's series by Moody Publishing. An Unexplainable Life retails on Amazon for $9.53 (paperback). There is a kindle version but I love the feel of paper. Not to mention the accountability of completing the workbook. I Am Found retails for $9.61 on Amazon and also comes in paperback or Kindle.
Find out more about this series and the other available books on the Moody Publishers Women website. Follow them on social media: Facebook, Twitter, and Instagram.