I had completely and totally planned to blog during our trip but trying to find an hour during the day that I wasn't entertaining kids, eating, being a tourist or snuggling our new addition was almost impossible. So here I am trying to remember some of the details, share a bit about our trip most importantly about our adoption.
How does one even start a story as crazy and involved as two adults taking three kids to the other side of the world? We left on a Thursday morning from the Columbus, OH airport. We started our international journey via United Airlines from Newark, NJ. Our flight to China was 12.5 hours and even though I thought that was the longest day of my life, I assure you our trip back took the cake. I may never get back into a car again.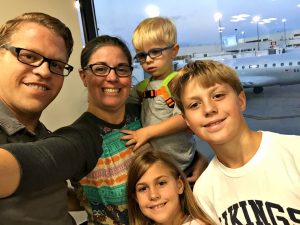 In adoption circles, people talk about airlines. United was fine but if you are reading this to look for some suggestions, don't worry about the upgrades to Economy Plus but bring LOTS of healthy, fun snacks for your kids. My kids hated the food, had too much sugar and by the time we arrived in Beijing, they were cranky and hungry.
Our adoption agency chose the Novotel Beijing Xin Qiao . If I could have a do over this would definitely be one of my choices. The hotel pictures looked lovely but the actual hotel was very dated and really not something I would ever choose for my family. We were very disappointed in this hotel. The rooms were small and cramped, we didn't have the adjoining rooms that we needed. The restaurant was also outdated but the morning buffet was excellent with a ton of choices. My husband said the coffee was the best he ever had. The location was nice but since we had a guide the whole time we were there, we didn't depend on it as much as we would have otherwise. I would have loved to stay down near the "Times Square," area where we could go out and walk around on our own. If you have a few extra dollars, I would not choose this hotel.
On our first day, our guide Candy met us and took us on a great adventure. We took the subway to the Forbidden City and Tiananmen Square. We got a million stares as we maneuvered our way through the city. We had been told that people would want to take pictures with him but we had no idea that Lulu would also be famous. She loved it and Ezra was none the wiser that people were taking his picture.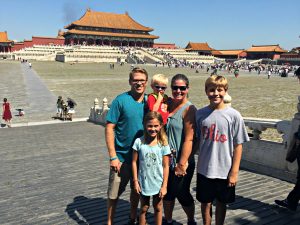 Everywhere that we went, people wanted to touch the kids and take their pictures. Some people were really direct, others would just take a selfie thinking we wouldn't notice. People were super friendly and honestly since the kids didn't mind, neither did we.
Here is one of our paparazzi shots: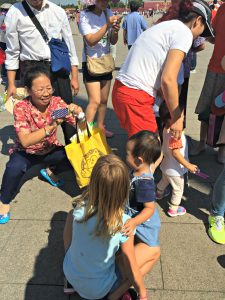 The Forbidden City and Tiananmen Square were very interesting and our guide knew every detail about the history. She has so much pride about her country that it really challenged my assumptions about the Chinese. Truly almost all the people we met or interacted with her friendly and seemed very happy.
After our tour of the Forbidden City, Candy took us to lunch an area called Hutongs. This is a little area surrounded by water where cars are not allowed. The lunch was phenomenal. Our guide helped us choose a few different items and we ate family style around a big table. Lu learned how to use chopsticks and all my kids were adventurous eaters.
After lunch we walked down to the Hutongs and took a rickshaw ride through the little area. I got to see some "split pants" hanging on a line, we learned how families were identified by the decorations at the front door and we took a tour of a Hutong home. At the Hutong Home we had the most crazy show when an older gentleman came and shared his prize winning crickets with us. I uploaded some of the video to YouTube. It was hysterical. Well worth the money paid. I bet if you asked my kids, they would tell you the cricket guy was their favorite part of the whole trip.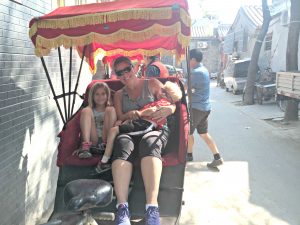 After the Hutongs, we took a bus and the subway to the Chinese Acrobat show. Apparently this show is very famous and gives great honor to the People's Republic. The show was excellent. A little expensive but it kept the kids entertained and might have given us all a bit of a heart attack. I would best describe it as a cross between the circus and Cirque du Soleil.
After this we made a quick trip through the famous "snack street" and then stopped at a local place for noodles. This was my favorite meal in China. For like $1.50 a person we had an amazing noodle bowl. I will be craving these for a long time.