How many families out there are still using their wedding registry blender? My husband and I just celebrated our 13 year anniversary and I have to admit that we were still using an old style simple blender. While we have always wanted to purchase one of the heavy duty "popular" blenders, we just can't justify the price point. If I had to speculate, I would bet that many large families feel the same way.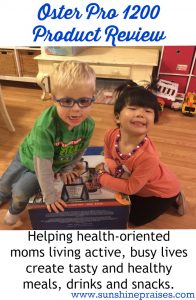 What would you say if I told you there is a great alternative to the expensive food processors on the market? That you can start making nutritious and delicious smoothies, salsas, soups, dips and more without breaking the bank? Well, I am excited to share with you my review of the Oster Pro 1200 Plus Food Processor. This versatile and affordable kitchen tool is sure to become a counter favorite after just one use.
While there were lots of recipes we could have made, we couldn't resist trying out the milkshake setting. My tween just got braces this week and milkshakes have been our saving grace during this time of transition. Plus, milkshakes are a great way to include little kids in kitchen activities.
Here is a video of our milkshake making shenanigans:
My husband really loves the milkshake setting. On our old blender we would have to constantly start and stop the machine to use a spoon and move the ice cream around the blades. The milkshake setting actually speeds up and slows down so that the ice cream doesn't get stuck. The finished product was a smooth and creamy milkshake that everyone enjoyed.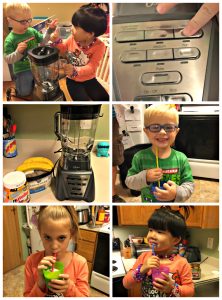 There are seven settings on the Oster Pro 1200:
Green/Frozen Smoothies
Food Chopping/Salsa
Milkshakes
Low, Medium, High
Pulse
In addition to the Extra Large 8-cup BPA-free TRITAN™ Jar , the Oster Pro 1200 also comes with a 5 cup BPA free food processing bowl which is perfect for the chopping/salsa setting. The food processing bowl has a stainless steel slicing disk and chopping blade. This fantastic kitchen tool really replaces both your blender and food processor saving you space in your pantry.
I found the blender and food processor were great in helping me make my favorite fall soups this week, especially my chicken corn chowder. In addition to all the typical blender recipes, I am sure there are an endless number of ways to use your Oster Pro 1200 Plus Food Processor.
What are some non-traditional ways that you typically use your blender? 
The Oster Pro 1200 retails at Target for $89.99 but you can SAVE $10 by using this Target Coupon link. Just print the coupon and save. Plus make sure you are using the Target Cartwheel app this holiday season for more great deals and coupons on all your favorite Oster products.
Follow Oster on Facebook and Pinterest for some amazing every day recipes as well as lots of great ideas for the holiday season.
Disclaimer:  I received this product for free from Moms Meet (momsmeet.com), May Media Group LLC, who received it directly from the manufacturer. As a Moms Meet blogger, I agree to use this product and post my honest opinion on my blog. The opinions posted are my own.