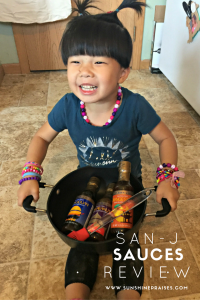 One of the most important aspects of international adoption is assuring that your child will maintain a sense of familiarity and comfort in their new environment. One of the best ways to do this is through servicing familiar foods. We were fortunate in China to be able to try a variety of foods and see what little Miss L enjoyed the most. Her comfort foods are definitely dumplings and noodles and that is why I was excited Mom's Meet asked me to review several San-J asian sauces.
I should start by sharing that I am not the world's best cook. Easy and fast are my favorite plans when coming up with dinner choices for my family. However, I do my best to choose products that are still healthy and without lots of unnecessary ingredients. The San-J company is committed to making quality products with a touch of tradition.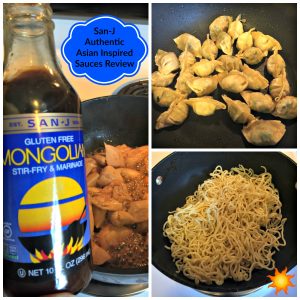 For our review, we were sent three gluten free cooking sauces, the Thai Peanut, Orange Sauce and Mongolian. My family tends not to like food that is too spicy so I was pleased that all of the sauces are flavorful and enjoyable. For our asian inspired dinner we made Mongolian chicken, Lo Mein noodles, chicken wontons and mixed vegetables.
The Mongolian flavor is so sweet and tangy. It is by far my favorite and since half the bottle is gone, I would assume the kids liked it too. The chicken with mixed veggies over noodles coated in Mongolian made me the world's best cook. LOL. Seriously my kids loved it. We used the Peanut Sauce to dip our broccoli in and my little Chinese princess was in heaven. I doubt she has ever had peanut sauce but she sure liked it. My big kids have enjoyed having the dip on the side with carrots.
My husband really likes the Orange Sauce. He has actually used it on a a couple of meals including a fantastic shrimp and rice. I can't wait to put these sauces to the test with another round of recipes. They really give me the easy ability to make authentic flavored Asian inspired food.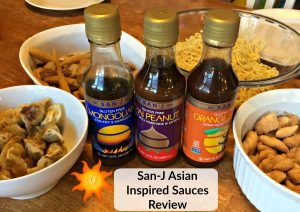 About the San-J Company:
(This information was provided to me by the company hosting this campaign)
In 1804, San-Jirushi, the founding company of San-J, was established as a Tamari soy sauce and miso company in Mie, Japan. For more than 200 years, their brewing mastery has been passed down through the generations. In 1987, the rst Tamari brewery outside of Japan was built in Henrico, Virginia and San-J was born. Today, San-J president, Takashi Sato, is an eighth-generation member of the founding family and faithfully continues the tradition of quality with a variety of Tamari soy sauces, Asian cooking sauces, salad dressings, soups, and rice crackers. San-J is a trusted soy sauce brand in the natural market, committing itself to ingredient health.
Important Facts:
San-J Organic Tamari Gluten Free Soy Sauce is made with 100% soy and absolutely NO wheat.
Like a fine wine, the pure concentration of soy protein gives San-J Tamari a higher quality soy sauce flavor.
San- J products are fermented for up to six months using traditional Japanese brewing methods,and contains zero preservatives, favors, or artifical colors.
San-J soy sauce is certified organic, gluten free, vegan, Kosher and Non-GMO.
Connect with San-J online to see their latest products and get exclusive access to discounts and special offers! A 10 oz. bottle of San-J Organic Tamari Gluten Free Soy Sauce typically retails for around $4.45.
*I received this product for free from Moms Meet (momsmeet.com), May Media Group LLC, who received it directly from the manufacturer. As a Moms Meet blogger, I agree to use this product and post my honest opinion on my blog. The opinions posted are my own.