My family began using probiotics about 8 years ago when my daughter was born with severe food allergies and eczema. Our doctor at the time was very natural focused and wanted me, as a breastfeeding mom, to make sure that I was using a high quality probiotic to help both of us. At that time, probiotics were just becoming mainstream and there were not as many choice on the market. I would love to say that we use probiotics on a regular basis but the truth is that we kind of seem to fall in and out of the habit.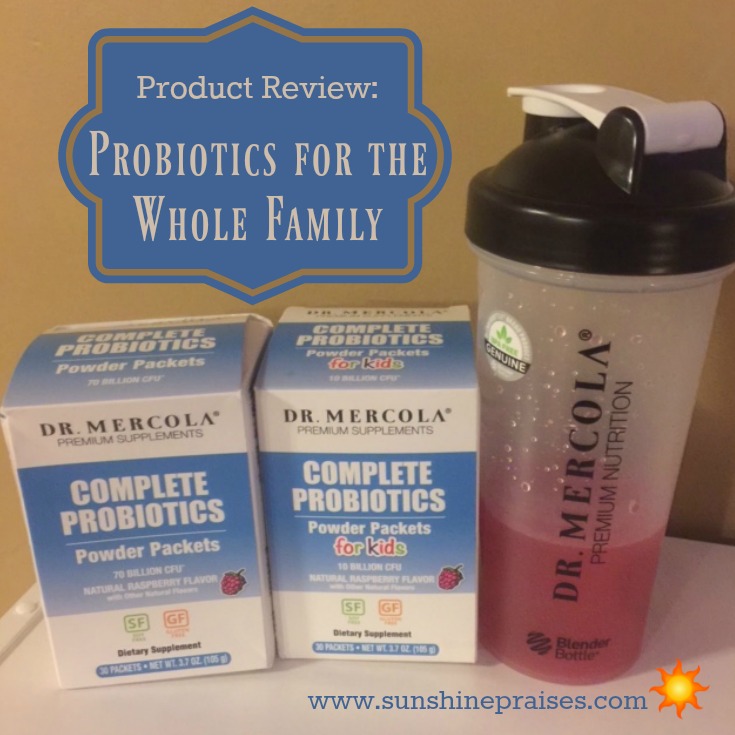 When we adopted our daughter from China, we knew that there was a strong chance that she would struggle with some belly issues adjusting to the new foods and healing her gut from malnutrition. We knew we would want to start her on a probiotic pretty quickly and the Dr. Mercola Powder Packets were perfect solution.
Dr. Mercola Powder Packets come in single use packets with a raspberry flavor. They mix well with 8oz of water and have a sweet fruit punch like flavor. My kids do seem to like the probiotics a little bit more when mixed with juice. I usually just drink mine with water. I have been trying to convince my husband to start using them on a regular basis because he is always fussing about stomach problems and has a horrible junky diet. I know he could definitely benefit from healing his gut.
The adult powder packets contain over 70 billion beneficial bacteria in each packet and the children's contains about 10 billion. Each packet contains 10 strains of bacteria, including super-strain lactobacillus acidophilus DDS-1, and promote an optimal environment for the growth of "gut-friendly" bacteria.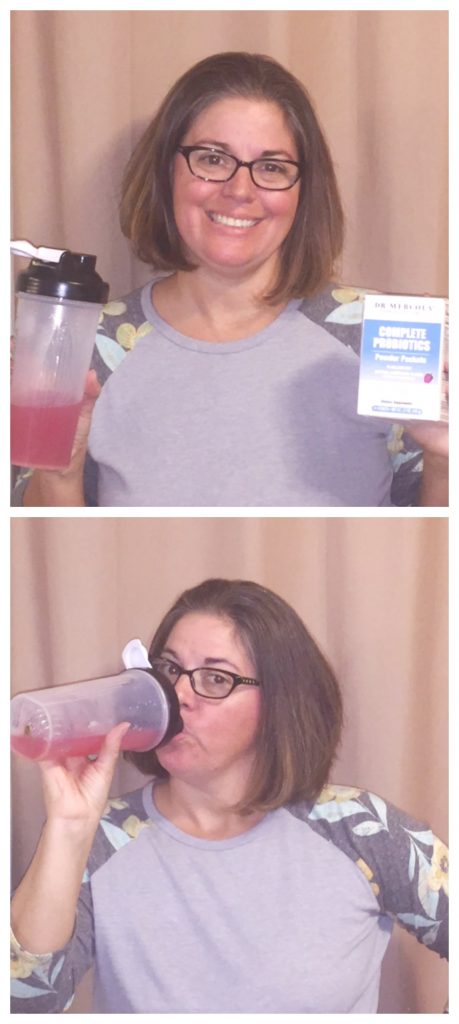 As a blogger, I try very hard to be extremely careful about making health claims about a product, so I want to emphasize that this is just my personal review. I believe in the use of probiotics to help aid a damaged gut and to reduce the amount of toxins in the body. Since using the Dr. Mercola Powder Packets, I have seen an improvement in the overall "belly aches" and gut distress in our home, especially in our new daughter. She recently had a "stool" test that checked for a wide variety of  "bad" bacteria and all of her tests were negative. I can't say for sure that the probiotic packets were the cause of that but I do believe they are helping her. Since we started the packets we have seen a decrease in the overall odor of her bowel movements and (I am sorry if this is completely TMI and gross) the consistency. Of course we have years of damage to fix but I do believe that probiotics are an essential part of her overall health.
One box of Complete Probiotics Packets for Adults (30 per box) retails for $41.97, and one box of Complete Probiotics Packets for Kids retails for $29.97 and can be purchased in the Dr. Mercola online shop.
You can learn more about Dr. Mercola's Probiotic Powder packs, check for deals and other health tips by following them on social media.
Facebook, Twitter, Pinterest & Pinterest
Disclaimer: I received this product for free from Moms Meet , May Media Group LLC, who received it directly from the manufacturer. As a Moms Meet blogger, I agree to use this product and post my honest opinion on my blog. The opinions posted are my own.