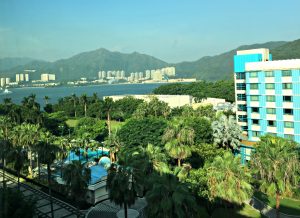 Last fall, during our adoption, our family had the wonderful adventure of spending a day at Hong Kong Disney before returning home. Being the ENORMOUS Disney family that we are, we knew that we couldn't be that close to an international Disney park and not make the effort to visit. Be sure to have a plan A and B if you will be visiting Disney with your newly adopted child. The hotel has great amenities so just hanging at the pool would be a great time.
Now, on to all things HK Disney!
Hong Kong Disney's Hollywood Hotel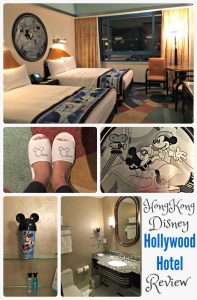 We arrive to Hong Kong Disney via a van we hired in Guangzhou, China. The 3 hour ride was very smooth and beautiful. The van took us right up to the front gates of the Hong Kong Disney Hollywood Hotel. There are two hotels on this Disney property. The Hollywood which is very similar to most of the All Star Disney World Resorts and the Hong Kong Disneyland Resort which resembles the Grand Floridian. The maximum occupancy in most hotels in China is 3 requiring us to have 2 adjoining rooms. The Hollywood Hotel was very affordable at about $250.00 per night with a variety of packages that include a character breakfast and park tickets.
The hotel rooms are smaller than the traditional American hotel but have all the luxuries that one expects from a Disney stay. I loved the little extras especially my own set personalized Disney house slippers. The hotel décor is very "American" and feels extremely familiar. Each room has a small kitchen area and two double beds. These are very traditional sized Chinese beds and are very firm when compared to our standards. Our room had a beautiful view overlooking the mountains and the giant guitar themed pool.
After we arrived, the kids were begging to go swimming. The pool has a zero-depth entry and a small fun water slide. While many people wore them, the Disney pool did not require swim caps. Which was a nice change after all the hotels we had stayed at in China.  The pool was very clean and the water warm enough for an evening swim.
Hong Kong Disney's Hollywood Hotel Dining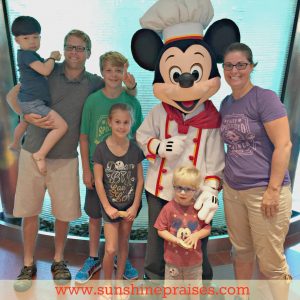 The hotel has three dining options, Chef Mickey, Hollywood & Dine and Studio Grill. During our stay Hollywood & Dine was closed for the season which was a bit of a disappointment. There were no options for quick take-out or even to purchase a bottle of water. That night we were able to enjoy a traditional buffet dinner at Chef Mickey. The food choices were very elaborate, including personalized Disney steamed buns, fresh made stir-fry and made to order noodle soups. Everything we sampled was delicious.
Our hotel package included the "character" breakfast which was also at Chef Mickey's. To our surprise the "character" breakfast is nothing like Chef Mickey in America. We were expecting the characters to table hop and take pictures but sadly Mickey Mouse is the only character in attendance. He stands out front and you queue up to shake his hand and take your picture. However, he did surprise my little toe-heads but sitting at our table and rubbing their heads for good luck. I don't have a picture because I was standing with plates full of food about 10 feet away. The guide with Mickey was not happy about his detour and pulled him away too quickly for me to get a picture.
The last thing we wanted to do after spending the day at the park was eat at a sit down restaurant. Fortunately we found out that we could order pizza from the Studio Grill and take it back to our room. This was a huge blessing as all four of my kids were on their last leg.
Overall Experience
The Hollywood Hotel was the perfect hotel for our short stay. I would strongly recommend it for families looking for a more affordable choices. Transportation is provided to and from the park and there were plenty of shuttles. Hong Kong Disney is located on the "island" and only a short taxi ride to the airport. Reservations and tickets can be purchased or made via fax or by calling customer service.
One last note. While writing this post, I found out that a new resort, The Explorer's Lodge, is opening this spring. It looks beautiful and is moderately priced between the two previously mentioned hotels. I guess that just gives us another reason to go back to China one day.
I will be writing more about our day at the park in an upcoming post.
If you keep believing the dream that you wish will come true. ~Cinderella
Have you ever visited an international Disney location? What would your dream Disney trip look like?