Hi Welcome to Sunshine Praises! 
I have a particular fondness for suns and whenever I see this adorable shiny happy face, it just makes me smile.  Thanks so much to Lucas's Journey with Sensory Processing Disorder for hosting this wonderful social.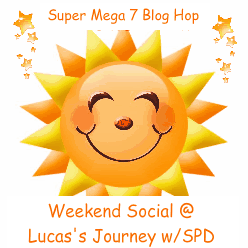 My son's original diagnosis was SPD and while I accept his more updated diagnosis we do still struggle with the SPD reactions.  Eph can be what is often referred to as "sensory seeking."  Everything with him is bigger, faster, louder, more – until the overload – when he melts down and loses it.  I have been told that I "just need to break him with better discipline," or that he is "spoiled." I just choose to love him, snuggle him and do my best to make sure his self esteem is not damaged. 
Last night when I arrived from work, there was this beautiful bouquet of followers on my kitchen table. A card was propped up against the vase.  My son had ever so sweetly written, "I love you, Ephraim" in it.  Writing is very difficult for him so beyond just controlling his energy long enough to write it, it probably took him a long time.  He isn't broken, he is exceptional and I am so blessed that God chose me to be his mom!
If this is your first time stopping by I look forward to getting to know you more. Please leave a comment with this post so that I know to follow you back. I always follow back. I have two really awesome giveaways going on right now and if I reach 200 fans on my Facebook page, then I will be giving another bag of RnG away.  Plus I have the following Praises & Giveaways coming up:
Doopsy Diaper SD
Ecopipo Diaper
Easy LunchBox Systems
Nutrasea Kids
Here are my current giveaways!
Rockin' Green Hard Rock Cloth Diaper Detergent
Melanie