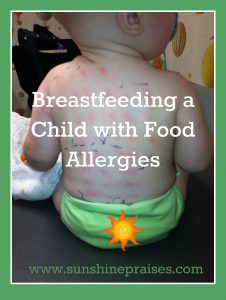 Within a few weeks of my daughter's birth, we knew there was something gravely wrong. Beyond an actual birth defect (laryngeal trachea malacia), she was also showing significant feeding issues and weight loss. Our lactation consultant and pediatrician immediately suggested that I go on a complete elimination diet.
For about 3 weeks, my diet consisted of rice, protein, fruit and vegetables. Absolutely none of the most common allergens. We saw a vast improvement after just a few days. Then after a month or so, I started adding certain foods back in. If she reacted, I took it out. Eventually we came to the conclusion that she was sensitive to dairy, soy and eggs.
Not the end of the world but not exactly a walk in the park for a breastfeeding Mama.
People would always ask me if it was "worth it" or why didn't I "just give her formula." I tried to explain that yes it was a sacrifice but one that was really important to me because I was (and am) capable of breastfeeding.
Now here we are again. Ever since birth, I have known that eggs made Ez particularly miserable. I did a test run of no dairy and no real eggs (eggs, batter, french toast, etc) and he seemed to improve but we were still struggling with the staph infections and eczema.
I asked our allergist if he was too young to test but given our family history, he decided to go ahead and do a skin test. The initial eggs and dairy came back positive and a further isolated test came back positive for eggs. Not just a little positive, no, it was hives all over his body positive. He also showed a mild reaction to tree nuts.
I was actually surprised when our doctor told me that the number one cause of eczema in children was an egg sensitivity. Everything I have ever read, suggested that dairy sensitivities caused eczema. Which is probably one of the main reasons I haven't seen much improvement with the dairy elimination.
Our doctor then suggested a complete avoidance of all egg products. Which for Ezra is easy but for Mama it's a little harder.
Now I am back to reading labels and giving up all my favorite egg products (mayonnaise, blue cheese dressing, cookies, many ice creams, any kind of creamy dip, Olive Garden salad dressing, ughh, I could go on and on) He is still having eczema issues so I am not 100% convinced that we have identified all of his sensitivities but at least this is a place to start.
I definitely feel more prepared this time around and thankful for early testing. It frustrates me that breastfeeding mothers are normally encouraged to switch to formula instead of being provided the option of choosing an elimination diet. Not only is it healthier for the baby it also gives the mother a first hand experience of manning her child's food allergies.
Yes, choosing to limit your own food choices can be very difficult but it isn't impossible and I am happy to take the extra step for my little man.
If you are coming across this post in a search for information, please reach out. It would be a joy to be able to walk with you through this time.