Disclaimer: I was provided with complimentary passes for my family to enjoy several of St. Augustine's museums and activities through www.floridashistoriccoast.com
One of my most favorite places on earth is St. Augustine, Florida. I had the amazing opportunity to attend Flagler College and call the area home for 4 years. As America's oldest city, it offers the perfect combination of historical education and relaxing beaches. As a family we try to visit every couple of years and truly there is so much to do, that you can never grow tired of this quaint little town.
When I was in college, Marineland was an old school dolphin show park. I actually never made it out there but I had driven by on many occasions. I was surprised to find out that Marineland is no longer a show place but instead it is an oceanic research facility. They also offer opportunities for individuals to swim or feed the dolphins in a variety of packages.
At first I wasn't sure visiting would be worth it. I mean, there was no show but Lu really wanted to see a real life dolphin and I didn't see any reason to disappoint her. I am also sensitive to the current concerns regarding marine life being held in captivity. After reading more about Marineland and the amazing conservation work they are doing, I decided that it would be worth taking a trip out to see the facility.
The park is actually very small and is mostly made up of conservation buildings. Upon entry there are two small tanks that house a rescued sea turtle. The turtle had been seriously injured by a boat propeller and you can see his scars. The dolphin tanks are located up the dunes and there is a stunning view of the ocean. There are several huge dolphin tanks and the dolphins were swimming freely.
In one tank there was a mother and a 5 week old baby dolphin. It was so amazing to watch the mother and baby interact with one another. Sitting outside of the tank was a young staff member. I asked him what he was doing and he explained that it was his job to observe the dolphins and to mark down every time the baby nursed, which side and for how long. It was so awesome. I mean, as a new mom, I always took notes about my babies eating habits too.
There was also a really awesome display that talked about how Marineland provides hearing tests on dolphins. Isn't that wild? I came across the local facility that has breastfeeding dolphins and deaf dolphins. Who knew? Between the breastfeeding and the hearing tests, I felt right at home.
The kids also enjoyed Marineland. I wish that they had been a little older, I might have tried the dolphin feeding or training workshops. There are several opportunities for dolphin interactions from just feeding them to actually swimming with them.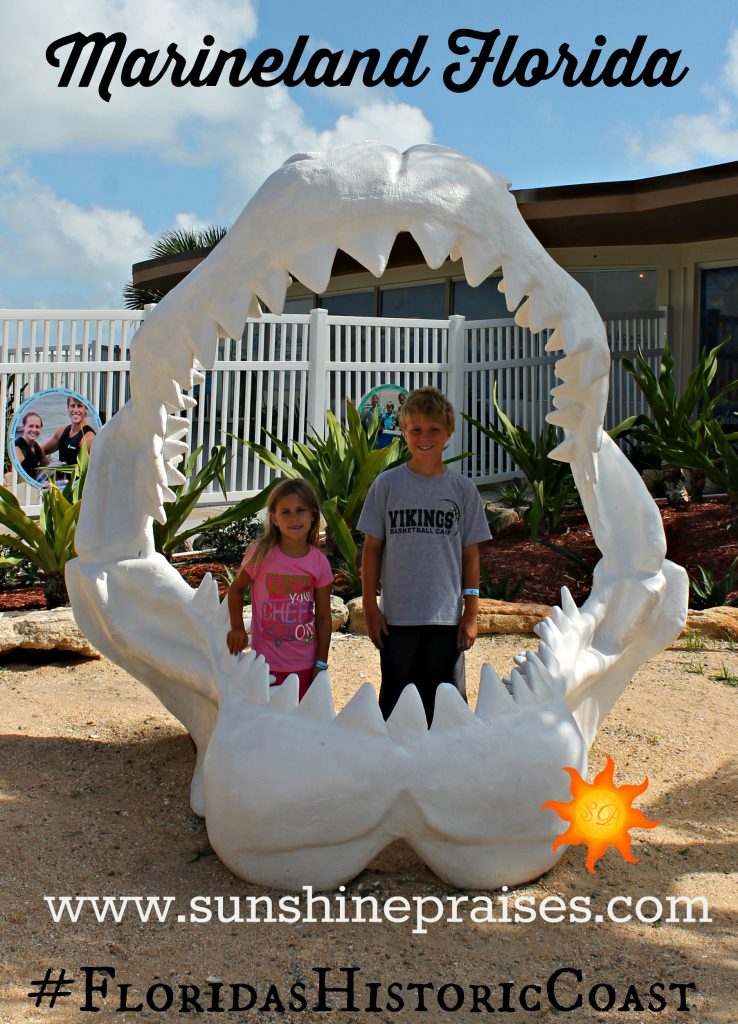 Marineland is located on South AIA near Crescent Beach.  Just a short 15 minute drive from St. Augustine Beach. Check out their website for more information on pricing, hours of operation and conservation projects.