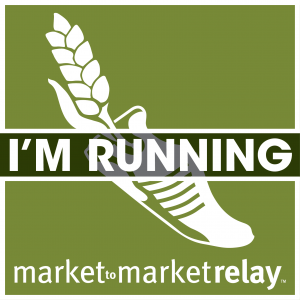 Running used to be a HUGE part of my life. I was clocking 15-20 miles a week and could run a 30 min 5k. Which was a huge thing for me, who used to tell everyone I would NEVER be a runner. Since the baby, I have tried to find my running mojo but with everything happening this summer, I kept putting it off getting started again. Fortunately, I have a fun group of girls who don't mind getting a little crazy with me and agreed to sign up for the inaugural Market to Market Relay in Ohio!
This is a pretty moderate relay race with only 76 total miles. Compared to the Relay Around Columbus which took about 21 hours and 120 miles to complete I am sure it will seem like a walk in the park. I have been logging some very slow and mentally painful miles but every time I lace up those sneakers, I am remembering how much I love the feeling of a good jam and a good run.
My team and I will be leaving tomorrow and we start our race at 6:00am on Saturday morning near Cincinnati, OH. We had fun coming up with names and decided on Who's Next. Not as creative as some other ones but I like it!
So wish us luck! We are not looking to win (unless it is for the best t-shirt) but we are looking to have an amazing time, not get hurt and try not to leave my van smelling like a frat house.
It will be a little quiet over here this weekend! If you have a chance to get out…. RUN HAPPY!!!!