Dis­clo­sure: My fam­ily was invited to the 2015 Dis­ney Social Media Moms Cel­e­bra­tion. I paid a con­fer­ence fee to attend and received discounted and com­pli­men­tary items from Walt Dis­ney World as part of the expe­ri­ence. I was not asked to write about the con­fer­ence or our fam­ily trip. All opin­ions and expe­ri­ences are entirely my own.
During our recent trip to Disney our family had the unexpected pleasure of visiting the Island of Lost Things. It's kind of like the Island of Misfit Toys but without the abominable snowman. Ok, its not at all like the Island of Misfit Toys and to be 100% truthful, it technically isn't even an island. Although, it would definitely behoove Disney to give it such a cool name because it is quite the adventure to retrieve a valued possession.
So, you are probably wondering what in the world did we lose?
The answer?
That silly little baby's outrageously expensive prescription eyewear.
I am not going to lie. I about had a melt down in the Animal Kingdom when I realized he had some how taken them off and (I assume) tossed them out of the stroller. We had been in to see the Lion King show (which is a must by the way) so I was 100% sure that there was no point in backtracking.
A quick Google search informed me that Disney had a quick and easy method to reclaim your lost item. Which gave me some hope that we would be able to find his missing spectacles.
So, how does one end up at the (recently monikered) Island of Lost Things?
Lose something.
Do a little dance and say a prayer that someone found your item and gave it to a Cast Member.
Check with Guest Services at the end of the day to see if your item has been returned.
Fill out a "Lost Item" ticket. Include as many details as possible.
If the item is not found that day, call the Lost and Found phone number –  (407) 824-4245 between 9am and 7pm Eastern time.
Be prepared to hold. I was on hold for more than 30 minutes each time I called.
Once you reach a Cast Member, you will need to tell them the date you lost the item, the location and a detailed description. You will be placed on hold while the person goes and looks in the "box."
If they have your item and you are still on property, the Cast Member will direct you to the Transportation and Ticketing Center, which is at the end of the Epcot Monorail.
The Lost and Found Building is fairly non-descript but there is plenty of signage.
Once you are there, be prepared top give the lost item description again. The worker will
(hopefully) go to the back and retrieve your missing item.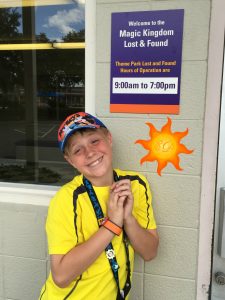 There are several websites, blog posts, etc, out there that will tell you that there is a crazy number of items lost at Disney everyday. The fact that they have this seamless recovery system is amazing. I can't imagine the undertaking to coordinate the whole process.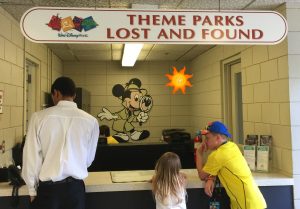 So here are a couple of tips:
If you can put a name and number on it. DO IT. Next time I will definitely try to figure out a way to label the baby's glasses and hearing aids. (stickers, sharpies, dog tags)
If you lose something, check to see if it was returned. Almost every person standing in line with me on Monday found their misplaced items.
Don't give up right away. Ezra's glasses weren't recovered for two days.
Call and Call again. Non-valuable items are kept for 45 days. Valuable items for 90.
I was also pleased to know that Disney donates anything that can be used again to various charities. Which is pretty awesome. It makes me feel better know that the 6,000 pairs sunglasses that are turned in each year don't end up in landfills.
Well, as much as I hope you never have to take an unexpected trip to The Island of Lost Things at Disney, if you do, I promise the steps for trying to recover it are worth the effort.
See….