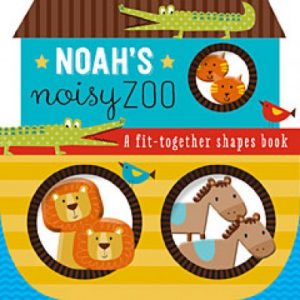 Dis­clo­sure: I am a Tommy Nelson Mom. I  receive discounted and com­pli­men­tary items from my connection with this group. All opin­ions and expe­ri­ences are entirely my own. Contains affiliate links.
One of the most significant concerns in the world of raising a Deaf child is literacy acquisition. Early and consistent exposure to books and other written materials should be part of their daily routines. For Ez, we try to have a small sample of colorful board books that cover a range of beginning literacy needs like numbers, colors and letters. In addition to these educational focused books, we also try to incorporate popular Bible stories.
Tommy Nelson generously sent us this wonderful book, Noah's Noisy Zoo
for a review and giveaway. A sturdy board book, it is just the right size and weight for toddler hands. It is full of bright colorful animal pictures and is just the perfect length to keep your little one engaged.
Like the title says, Noah's Noisy Zoo, provides an interactive experience of several popular animals and the noises they make. If Ezra wears his hearing aids, he can actually make several of the animal sounds so reading is a great way to encourage his listening while improving on his ASL and English vocabularies.
About the Book:
It's the Noah's Ark story like you've never seen it before with bold, colorful cut-outs of the noisy animals on the ark.

From the time they first begin to speak, young children love making and identifying animal sounds. And there's no better story that captures God's creatures more than Noah's Ark! Children will be led to tell Mom and Dad about each animal's sound, an engaging activity that kids love to do. And this "fit-together" board book features bold, colorful cut-outs on each spread that showcase the animals on the ark in a fun, dynamic way. The cut-outs for each spread "fit" together when the book is closed, creating a fun surprise for kids on every page.

This unique board book would be a wonderful gift for birthdays, baby showers, or anytime!
Here is video of Ez and I reading Noah's Noisy Zoo together in ASL:
(In ASL, we use facial expressions. For children, over exaggerating is a great way to maintain their attention and encourage them to copy and repeat the signs.)
Noah's Noisy Zoo can be purchased for $9.99 from
Thomas Nelson Publishing
or on
Amazon Prime
.
Enter to Win