Dis­clo­sure: My fam­ily was invited to the 2015 Dis­ney Social Media Moms Cel­e­bra­tion. I paid a con­fer­ence fee to attend and received discounted and com­pli­men­tary items from Walt Dis­ney World as part of the expe­ri­ence. I was not asked to write about the con­fer­ence or our fam­ily trip. All opin­ions and expe­ri­ences are entirely my own.
Even though our recent trip to Disney World included triple the magic courtesy of Disney Social Media Moms, the one thing that stayed constant was our need for visual access at the Disney Parks. Being a bi-lingual (ASL/English) family, we have always relied on using the interpreter services during our trips.
Disney's Guest Services provides ASL interpreters in each of the four parks. Interpreters are scheduled year round for a limited number of rides, shows and events per day. Schedules do change periodically and should be requested 7 days in advance to make sure you don't miss a favorite.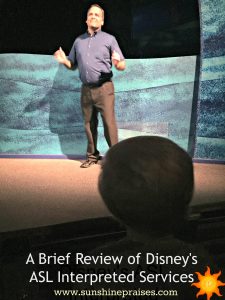 Currently the park schedule is:
Disney's Animal Kingdom park: Tuesdays and Saturdays
Disney's Hollywood Studios park: Sundays and Wednesdays
Epcot park: Fridays
Magic Kingdom park: Mondays and Thursdays
This past trip was the first time that we were able to utilize the interpreters at Hollywood Studios. My daughter loved the Beauty and the Beast show and of course the Frozen Sing Along. Lion King in Animal Kingdom will probably always be my favorite but Beauty and the Beast took an easy second place. The interpreters really bring the show to life. Even Ez was whole heartedly watching the interpreters. He laughed and tried to imitate their signs. I think he was a bit of a show stealer with his clapping and belly laughing.
Guest services will also provide interpreters for the following shows with 14 days advance notice:
Hoop-Dee-Doo Revue
Pirates and Pals Fireworks Voyage
Disney's Spirit of Aloha
We didn't catch a show this time, but we have seen The Spirit of Aloha before and really enjoyed it. The interpreters have appropriately matching "costumes" and blend right into the show. They truly are some of the best trained, best skilled interpreters that I have ever seen.
Here are a few more tips:
Not all cast members are familiar with the interpreter schedules or where the interprets are positioned near the stage. You will want to go to the front of the Fast Pass or Handicap line and request for the interpreted section.
Letting the interpreters know which shows you will be attending helps them keep an eye out for you.
Some of the shows, parades and other events need you to arrive 15 minutes early. Try to find an activity near the next show to make sure you don't miss it. While we have never had any problems being able to sit together, I do know other families that have had to separate because seats were given away.
Don't feel compelled to see every interpreted event. If something doesn't interest you, no big deal.
The parades have a special viewing area but it often gets crowded with wheelchairs. You will definitely want to be at the parade viewing area early to make sure you have a clear view of the interpreters.
The Disney interpreted services are not without some flaws. One of our biggest frustrations is that the interpreted days at the parks don't always match up with our visit. We really like to avoid the Magic Kingdom on weekend. So this past trip we missed all the interpreted shows because we arrived late Thursday and didn't want to fight the crowds on Saturday. If having something interpreted is important, try to make your travel plans accordingly.
I also wish that there were more options catered to children. Character meals are never interpreted and I think that is a huge loss with Princess dinners and other "talking" characters events. Some of the most magical moments are the ones where with the realistic interactions and that is totally lost on Deaf children. I hope that as Ezra get's bigger, he won't be limited in really finding his Disney Side.
If you are heading to Disney and would like more information, send me an email or leave a comment. I would love to help make sure your experience is as magical as possible.