Dis­clo­sure: My fam­ily was invited to the 2015 Dis­ney Social Media Moms Cel­e­bra­tion. I paid a con­fer­ence fee to attend and received discounted and com­pli­men­tary items from Walt Dis­ney World as part of the expe­ri­ence. I was not asked to write about the con­fer­ence or our fam­ily trip. All opin­ions and expe­ri­ences are entirely my own.
Last month when we attended the Disney Social Media Moms Conference, I was treated to a wonderful presentation by Jonas Rivera and a sneak preview of the uncut version of Inside Out. It was my first time as a Disney movie reviewer to be able to hear about the actual development process of an animated film. There is so much thought, planning, and passion that goes into making these amazing films.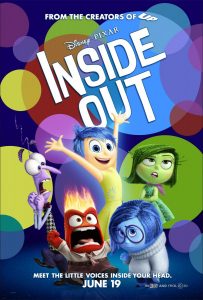 Here are a couple of the surprising and interesting details about Inside Out that Jonas shared during his talk at DSMMC:
It took over 5 years to make Inside Out
They make the movie 5-10 times before it reaches final approval
The characters started with 5 basic shapes, Star, Tear Drop, Red Brick, Green Triangle, Question
Joy is meant to look like air or floating
There are 23 frames in on second and the top animators create 2-3 frames a week.
Now, let's talk about Inside Out:
Since we had only seen 3/4 of the movie the first time, the big kids and I were eager to find out how Joy and Sadness made their way back to headquarters and saved Riley from a dismal and dreary existence. Don't worry, I am not spoiling the plot. I think we can all assume that Pixar wouldn't leave it's heroine lost and lonely forever.
Inside Out is a fascinating analysis of human experience and emotions. Two parallel "worlds" co-existing. One inside our heads and the other as people out in the world. Both relying on an intricate dance to make everything run smoothly. After a huge jolt (moving) changes her life, Riley struggles to deal with the many new emotions that she is experiencing, while Joy, her alter happy ego, deals with having to let go of always being the lead in Riley's head. The struggle is real and when Sadness starts dipping her hands into Riley's memories, it causes upheaval in the center cortex.
Inside Out is masterfully designed to reach the emotional core in each of us. It highlights all the feelings we have or had and touches on many of the common experiences that we face has humans. As an adult I found myself remembering those touchy teenage years but definitely related to the "mom" brain so delightfully portrayed during a family dinner scene. Rolled eyes definitely trigger my Anger character.
As our family prepares for some big life changes, international adoption, moving, ect, I am sure that we will have lots of "Riley" moments coming up in the future. My kids have already starting referring to their feelings with the Inside Out labels and it really does give them a way to talk about what is happening inside their heads.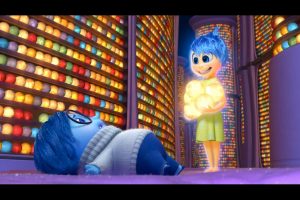 Some of my favorite highlights:
Memory Balls – I love, love, love the memory balls. They remind me of Harry Potter. I like how they are color coded and I wish that I had a vacuum that could clear out a few.
Bing-Bong – Riley's childhood imaginary friend. I wish that my imagination was that creative when I was a child. I am kind of jealous.
Disgust – Lu and I absolutely love her sassy personality. We have a personal joke in our family about tasting each other's food to see if it is poisonous. We have also decided that Ez's lead emotion is ruled by his sassy green character.
The End Emotions – Whatever you do, do NOT leave the theater until ALL the end emotions have played out. One word: DOG
I would not be at all surprised to see a sequel to this movie with a male character. It might be hard to come up with a new story line but I don't doubt the creative minds at Pixar for doing just that. They did bring us years of joy through Toy Story and Monsters Inc. Personally, I think they could do an entire movie based on the emotions of animals and I would be happy.
Lastly, before I turn this over to my children …
Make sure you get to the movies early. You won't want to miss the Pixar short Lava that plays at the beginning of the movie. You're going to lava it.
The kids review:
(Please ignore my overly hyped up, ADHD, just finished a huge soda and ate a bag of red dyed candy child in the background)
Like INSIDE OUT on Facebook: https://www.facebook.com/PixarInsideOut 
Follow INSIDE OUT on Twitter: https://twitter.com/PixarInsideOut and https://twitter.com/headquarters
Follow INSIDE OUT on Instagram: https://instagram.com/PIXARINSIDEOUT/
Follow INSIDE OUT on Pinterest: https://www.pinterest.com/disneystudios/inside-out/
Visit INSIDE OUT on Tumblr: http://insideoutheadquarters.tumblr.com/
Follow Disney/Pixar on YouTube: https://www.youtube.com/user/DisneyPixar
Visit the official INSIDE OUT website: http://www.wdsmediafile.com/walt-disney-studios/InsideOut/
INSIDE OUT opens in theatres everywhere this Friday, June 19th!