Disclaimer: I am a Smart Bottoms Ambassador. I receive products in exchange for promoting their products. The giveaway item was paid for by Sunshine Praises.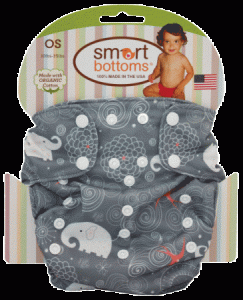 I don't think that I have to tell you how much I love my Smart Bottoms. Yes, I am an ambassador but I am am also truly a dedicated SB user. In my opinion, Smart Bottoms are one of the best all natural fiber AIO diaper in the current market. Now, I know some might disagree with me but the popularity of these diapers has reached an epic momentum and that just goes to show their great quality.
If you didn't know, they are currently releasing new prints and solids monthly, as well as retailer exclusives in diapers, swimmer and wet bags. July's awesome print is the lovely elephant diaper sweetly named Eloise. Swirls and elephants dress up this satin gray diaper. Some would say it has a bit of a pink tint but I loved it on my little guy.
A group of Smart Bottoms ambassadors decided that one of our lucky Smart Nation friends needs to have their own Eloise! So we got together to bring you this awesome giveaway! One of you will be getting Eloise for your very own fluffy bum.
Many of you probably already follow most of the Ambassadors. In addition to visiting us on social media, come back and comment on our blogs and Facebook pages for everyday for an extra entry!
Enjoy!
ENTER HERE
GIVEAWAY!