Disclaimer: I am on the MommyCon street team and receive payment and tickets in exchange for my promotion of these events.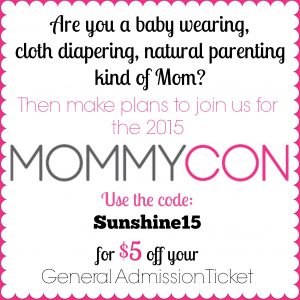 Can you believe that summer is almost over? My big kids head back to school in just a few days. I can't believe that the much anticipated MommyCon Columbus is just around the corner. I have been eagerly looking forward to this spectacular event for almost a year now. Plus it is going to be an amazing opportunity to meet some of my lovely followers and cloth diaper and baby wearing friends.
There was an official announcement that MommyCon Columbus is almost sold out but as of tonight, you can still purchase tickets for ALL of remaining 2015 conferences. PLUS you can save $5 off your general admission ticket by using my unique code SUNSHINE15 at checkout.
VIP packages for Columbus will be going on sale AFTER the DC event. Look out for emails or join the MommyCon Columbus Facebook group to make sure you don't miss out.
Washington DC, August 22nd
Columbus, Ohio – September 19th
Anaheim, CA – November 14th
Seattle, WA – November 21st
Any questions? Let me know! I would love to know who is attending the Columbus event! Hoping to meet some of you wonderful ladies and sweet little babes.
PS: Don't forget to pick up your Smart Bottoms MommyCon exclusive Jax and Jill cloth diaper and accessories!