Sunshine Praises is not an official advocate for any agency. My goal is to help all deaf and hard of hearing waiting children find their forever families.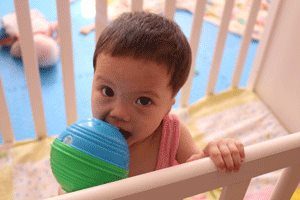 This little sweetie showed up in my newsfeed today and I just had to share her. Isla is another deaf Chinese waiting child. She is absolutely adorable. She does have several videos in her file that show how perfect she is and that she is overflowing with resiliency. This is what her advocate has to say about her:
Meet 11 month old Isla. Both of her ears are deformed and she is deaf. She loves to play with her caretakers and will smile when they playfully touch her forehead. She likes coos when held tightly and will cry when she drops a toy. She can sit on her own, crawl and walk when holding on to something. She can track toys moved in front of her and will look for dropped toys. She can also transition a toy from one hand to the other. Isla is very loveable and makes great eye contact. It is clear that Isla has no hearing, but it is unknown what inner ear structure she may have.
Isla is designated to Heartsent Adoptions. Please contact them to find out how you can adopt Isla or another waiting child.
Thank you Liberty from No Hands But Ours for your dedication to finding homes for each and every orphan. Please visit the No Hands But Ours website for more information about adopting from China.
Please let me know if you have any general questions about the adoption process or if you need any assistance. While I am all new at this, I will do my best to find out the answers and walk with you down this amazing journey.
Disclaimer: I am not affiliated with this child and have not personally reviewed this child's file. Any information pertaining to her adoption should be requested from an appropriate agency.