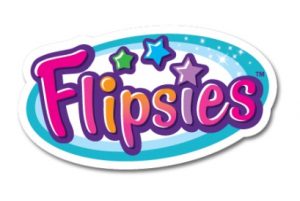 Sometimes review products show up at the very best time and in this case, Lu receive her very first set of Vtech's newest electronic toys, the Flimsies on her actual birthday. Isn't it just perfect that she got to celebrate with Clementine, Flipsies own baker and party host extraordinaire? I mean, who better to help host a little girls birthday party?
Flipsies are a group of 8 interactive girls with super big dreams. Each of them taking turns following their own goals while also developing their unique and beautiful personalities. The Flipsies dolls come to life when placed on their Magic Point technology. These Magic Points allow them to speak to one another and interact in their unique play sets. Each doll comes with the ability to change from their dream jobs into their favorite activity with just a simple outfit or hair change. Plus all the dolls interact with the other pieces in the set, creating one big sisterhood.
For this review, Lu and I were sent the Clementine's Birthday Party and Bakery play set along with Sandy and her surfboard. Lu was also given Jazz for her birthday this year, which was really exciting because it gave us another doll to use for this review. Sandy is a surfer girl who is dreaming of becoming a Marine Biologist. Jazz runs her own salon while is also an excellent musician. The play set allows for the girls to come together for a party or to eat out in the cafe.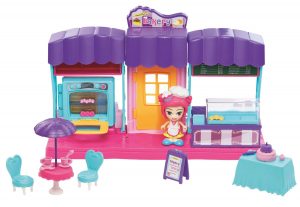 Lu enjoys getting everything set up and switching between pretend play and using the magic touch sensors. She will often keep the dialog going after the dolls have finished talking and takes them to new places and new ideas. For example, Jazz can get everyone dolled up for the party and then be the piano player as well.
Check out Lu's full video review:
A quick note from Mom:
There are a lot of small parts and clothes that need to be put on for the dolls. I would recommend getting a small plastic container to help keep everything organized and out of the hands of little ones. Also Lu needed some help getting the clothes on and off so that might also be an issue for a younger child.
Currently there are a total of 18 products available in the set. Each set comes with accessories and all the pieces interact with one another and are prices from $9.99 to $39.99. There are some great deals on Amazon for the holiday season. Get them now. This will definitely be a hot product for the the holiday season.
WIN ONE!
Vtech would like one of my readers to have their very own Clementine's Birthday and Bakery set. Just use the entry form below to enter.
Extending the play value for kids, a new Flipsies microsite is now available, offering girls exciting activities, games, quizzes, videos and more. It also serves as a resource for parents, with tools and advice on how to support and empower their children, build their confidence and help them achieve their dreams.
You can also follow Flipsies on Facebook and Twitter!