Tell me that you remember having pop up books as a child? Like the real super big pop up books with little tabs to pull? The ones that made the story come to life in a new way. I know that I definitely had a few of those types of books when I was young but I can't for the life of me remember them.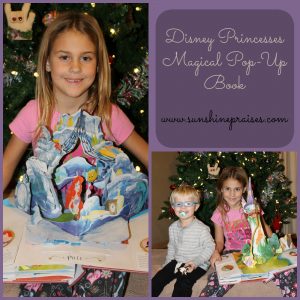 In today's world of 3D movies and iPad technology, the art of a pop-up book seems so old fashion. Except that I believe children still crave the simplicity of books, crayons and scissors. They need tools to release their inner creative spirits and that is exactly what I saw when my daughter first opened her new Disney Princesses Magical Pop Up Book.
After the initial oohs and ahhs, she began to meticulously examine each page. Checking out the amazing artistic details of each story, figuring out how the pull tabs work and reading the mini stories on each page. She was mesmerized by the intricate details on each page and how closely they resembled the original book images. She gives us a little walk through in her YouTube review below. She gets a little nervous on video so don't mind her mental slips:
Mama's Review:
The book is beautiful. It is truly a one of kind gift or a family heirloom. The pages can be a little tricky to fold up so I would not recommend it for unsupervised younger children. We lost the window panes in Snow White's House by a finger poking toddler. However, I was able to use a razor blade and do a quick fix and you can't even tell. The pull tabs change the displays into new stories or into a another scene.
For example, Aurora turns into Cinderella and also into the Maleficent the Dragon. On the Little Mermaid page it goes from the scene with flounder and the dinglehopper to Ariel and the Prince sitting in a boat. For little girls that have memorized these princess stories, these little details won't go unnoticed.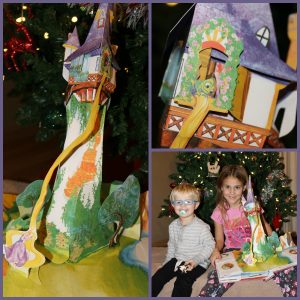 I was particularly impressed with the Tangled page. The tower is really high and even includes Rapunzel's long hair and Pascal. Of course this is my own favorite Disney princess. There are also mini stories on each page that we completely over looked initially. It wasn't until I was watching the video on the D23 site that I realized all the parts we were missing.
The Disney Princess: A Magical Pop-Up World was splendidly created by paper engineer (what a cool job) Matthew Reinhart . If you would like to add this beautiful book to your collection, please use the Friends & Family discount of 35% off all Insight Editions titles on their website at www.insighteditions.com. Simply use the code IEFRIENDS at check out.
Enter the Giveaway!
Disclaimer: I was provided this book for review. These are my honest thoughts and opinions.