I received this product for free from the sponsor of the Moms Meet program, May Media Group LLC, who received it directly from the manufacturer. As a Moms Meet blogger, I agree to use this product and post my opinion on my blog. My opinions do not necessarily re ect the opinions of May Media Group LLC or the manufacturer of this product.
Last Saturday morning I was on a freshen up the house kick. So many little nooks and crannies that get overlooked in our regular household cleaning. The winter blahs have set in and the house just wasn't feeling fresh and clean at all. Of course, whenever I break out the spray bottles, the toddler always insists on "helping" me out. Actually "help" is really not the best choice of words. A better choice might be, "grab the spray bottle, run away as fast as possible, while spraying everything in his path including the dog."
Normally I fret about him getting his hands (and mouth) around cleaning products but because I was using the all natural, Murchison-Hume cleansers, I didn't panic as much when I heard that little sinister giggle from behind the couch. Nope, I just handed him a wash towel and put him to work on cleaning the windows. Of course I kept a good eye on him and there was only one incident of the dog's nose being cleaned.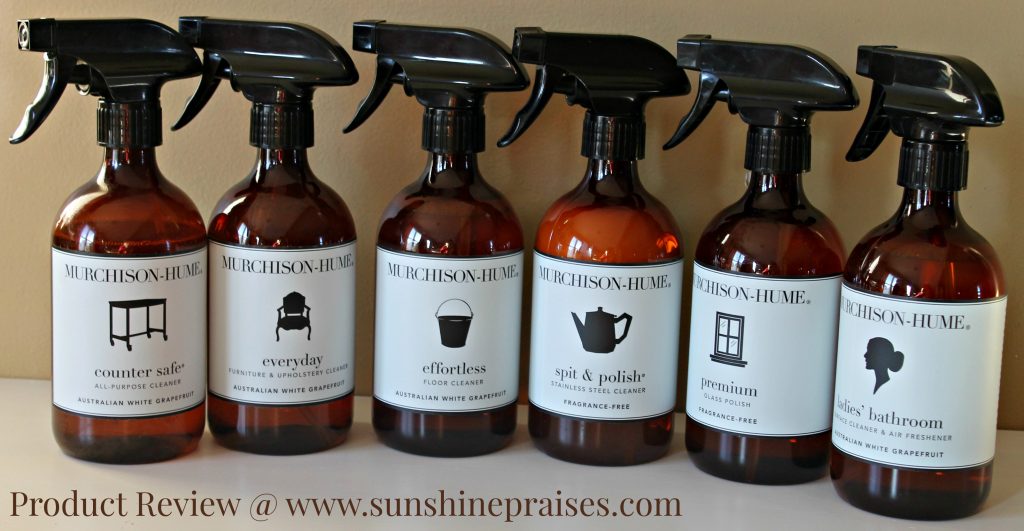 For this review Murchison-Hume in conjunction with 
Mom's Meet
sent me the Home Starter kit. This kit includes 6 of their most popular household cleaners and a lovely Jute tote bag. You have two choices in fragrance, Original fig or Australian White Grapefruit. I chose the Grapefruit but considering we are potty training, I probably should have gone with the their "boy's" scent. (that is a joke, the grapefruit is lovely and works wonderfully in the bathroom as well.
Here is what my package included:
• Boys' Bathroom Cleaner (If you select Original Fig) OR Ladies' Bathroom Cleaner (If you select Australian White Grapefruit)
• Premium Glass Cleaner (Fragrance-Free)
• Everyday Furniture & Upholstery Cleaner
• Effortless Floor Cleaner
• Spit & Polish Stainless Steel Cleaner (Fragrance-Free)
• Counter Safe All-Purpose Cleaner
Murchison-Hume products are all made in the USA and are 99% or more natural. They are always free of ammonias, bleach, dyes, formaldehyde, parabens, and phthalates. In addition to being 99% natural, all the products are also rapidly biodegradable and 100% cruelty free. Doesn't that sound like a product that you would like to have in your home?
Let me give you a few examples of how we used our products:
Effortless Floor Cleaner: It's snow season around here and muddy paws are a regular occurrence. While I sweep and mop regularly, the Effortless Floor Cleaner was perfect for cleaning up after the dog. Our laminate kitchen and wood living room flooring looked shiny and wiped up easily with this great product.
Counter Safe All Purpose: Just like the title says, the All Purpose cleaner wipes away all those messy cooking splashes and kid helper spills. Just spray, leave for a minute and wipe. No harsh chemical odor.
Furniture & Upholstery: This might be my favorite product. At first I wasn't totally sure what I would use this product on and then I realized that my brand new van seats needed to be desperately wiped down. Snow boots and a rear facing toddler leave one heck of a mess. I was thrilled to see how easily this cleaner allowed me to wipe down all my seats. Then to finish it off, the All Purpose cleaner was perfect for wiping down the cup holders and door jams.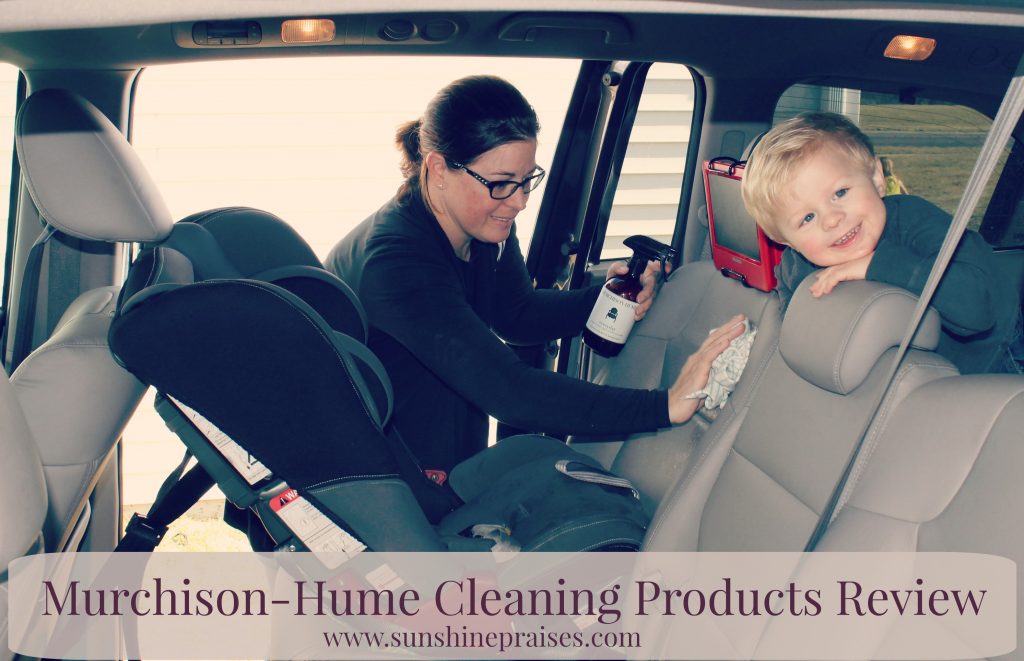 Overall I am really pleased my sample products from Murchison-Hume. I was glad to learn that you can purchase refill and bulk orders and have them delivered directly to your door. Another way that you are reducing waste and creating a more natural home environment.
In addition to the wonderful products mentioned above, Murchison-Hume also has a dog care line. Their "Best in Show" products are scented with essential oils that keep your best friend naturally pest free without the use of synthetic fragrances or silicone. Our long haired, fluffy Newfie could definitely benefit from a fresh smell after the recent mud and mess that winter brings.
Purchase the Starter Kit (regularly priced at $59.99) or any other product on their website and save 20% at murchison-hume.com! Simply enter the code MomsMeet20 at checkout. (Valid through March 31, 2016)
Find out more about Murchison-Hume by joining in the conversation at: Pinterest, Pinterest and Pinterest!
ENTER TO WIN!
Your own $59.99 Murchison-Hume Starter Kit
*Giveaway is open to US customers only and Murchison-Hume cannot ship to P.O. boxes or APO.