Disclaimer: Our family received tickets in exchange for my posts and review. However, I always share my honest opinions.

Disney On Ice
Let's Celebrate
Nationwide Arena
February 3rd-7th, 2016
The family and I had an amazing time last evening for the opening night of Disney on Ice, Columbus. As always Feld Productions created an amazing show for all ages to enjoy. Disney on Ice brings a little bit of Disney Magic straight into your home town. Which honestly, I can always use when I don't have a trip to see the Mouse on the calendar.
Let's Celebrate brings skates through all of your favorite ways to celebrate and even touches on a few that your kids might not know about. Of course, our favorite was the Chinese New Year celebration complete with an ice skating dragon. Ezra recently learned the sign for dragon and was so excited to use it while the dragon traipsed around the ice. He also loved the characters from Toy Story and was signing "PIG" and "DINOSAUR" over and over. I am going to have to dig out the Toy Story movie for him. I think he will love to get to know those characters.
Of course, Lulu loved the Valentines Day song with all of her favorite Princesses. My husband cracked me up because he kept asking "who's that?" when a new couple took to the dance floor. Obviously, he doesn't pay enough attention to the million Disney Princess movies. I will give him a pass.
Eph perked up out of his tween angst slump during the Halloween, Jack the Skeleton performance. Jack was an amazing skater and so funky and fun. I was half expecting Maleficent to turn into a fire spewing dragon. It was fun to see a "villain" performance since they are such a hot topic right now.
Over all the family and I had a magical time at Disney on Ice. The talented performers, amazing props and the great music made the show 2 hours of magical fun!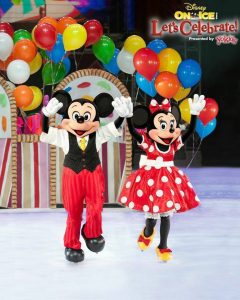 There are plenty of tickets are still available! I checked the Ticket Master website for you just tonight!
General Ticket Information
Front Row -$55.00
VIP – $40.00
3rd – $25.00
4th – $20.00
REMAINING SHOW TIMES!
Friday, Feb. 5th at 7pm
Saturday, Feb. 6th at 11am, 3pm and 7pm
Sunday, Feb. 7th at 11am, 3pm and 7pm
Stay in Touch!!!
Like Disney on Ice on Facebook!
Follow Disney on Ice on Twitter! Use the #DisneyOnIce to share your favorite memories!