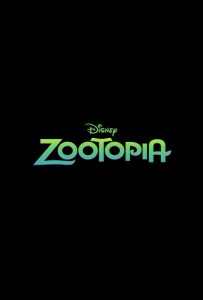 Oh sweet Disney, you always have a way of making wonderful movies that appeal to every age and generation. You know the perfect place to insert that classic movie reference along with maintaining the attention of your youngest viewers with pop culture references. Disney, you are the animated movie master and just like other Disney classics, Zootopia does not disappoint the movie goer.
As a parent to a Deaf child, the overall Zootopia theme of acceptance was not lost on me. Anywhere the writers inserted the phrase  "but bunnies can't…" [insert any perceived limitation], my mind quickly replaced the word bunny with Deaf. The similarities between the D/deaf community and the movies narrative of the bunny sterotypes is eerily familiar and unfortunately still true today. Even though I key in the word, D/deaf, there are a limitless number of other disabilities, groups, and genders that could just as easily fit the "bunny" profile and discrimination.
So what is Zootopia about? It's the beautiful story of a determined bunny that doesn't let other's perceptions of her limit her ability to not only achieve personal success but also to see past the stereotypes of others. When the movie first opens up, we meet Judy Hopps (voiced by Ginnifer Goodwin), a young bunny with a spirit bent towards fairness (hello, Anger from Inside Out). She is determined to exceed the expectations placed upon her country bumpkin self and become the first bunny cop. After great successes min her small town, she is off to the "big bad city" where she plans to become the first bunny cop ever. unfortunately her endless enthusiasm is met with extreme bigotry from her male prey boss and co-workers. If Judy is going to make this work, she is going to have to do more than just be a bunny cop, she is going to have to prove that she is capable of doing her job the same as or better than all the tigers, bears and rhinos that are standing in her path.
Just when Judy doesn't think things could get any worse than parking duty, she finds herself swindled by the very shady (and stereotypical) fox that her father warned her about. Caught off guard by being her genuine and kind self, Judy gets swindle by Nick Wilde (voiced by Jason Bateman) and another con-artist fox in the Elephant Ice Cream Parlor. Elephants don't serve foxes and Judy can't stand to see that kind of discrimination happening right in front of her. Doing the kind thing, Judy steps up and helps the fox get what she thinks he deserves and unfortunatelygets caught up in the scam and finds herself outwitted by a fox. This unfortunate meeting however leads to an unusual and supportive friendship that provides a catalyst for Judy's successful career as a bunny cop.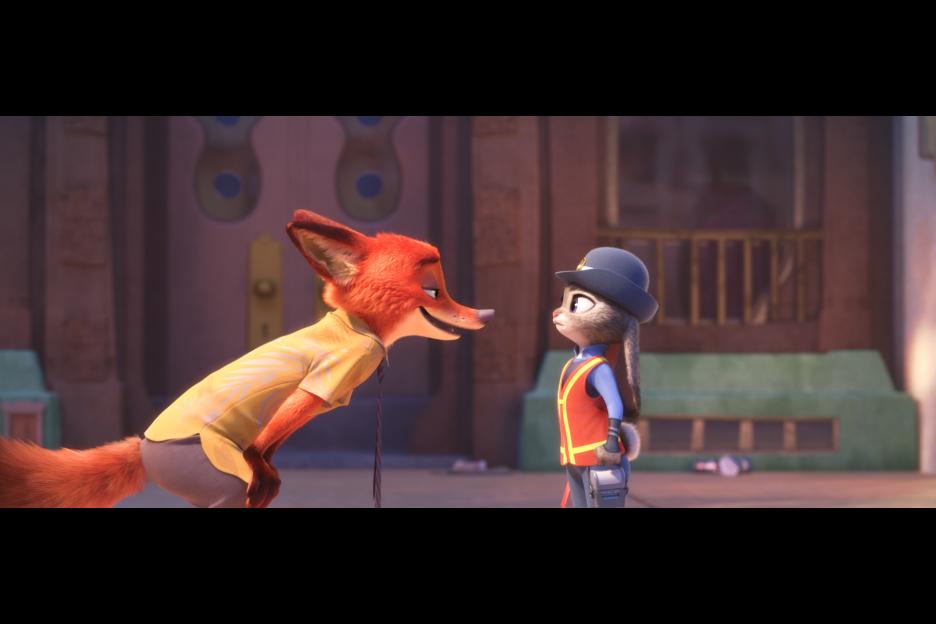 Here are some fun and interesting tidbits, without any spoilers:
Favorite Character:
This kids and I loved donut eating Benjamin Clawhauser (Nate Torrence). For the life of us, we could not figure out what type of big cat he really was but a quick check on the website I learned that he is a chubby cheetah. This lovable dude totally steals the show.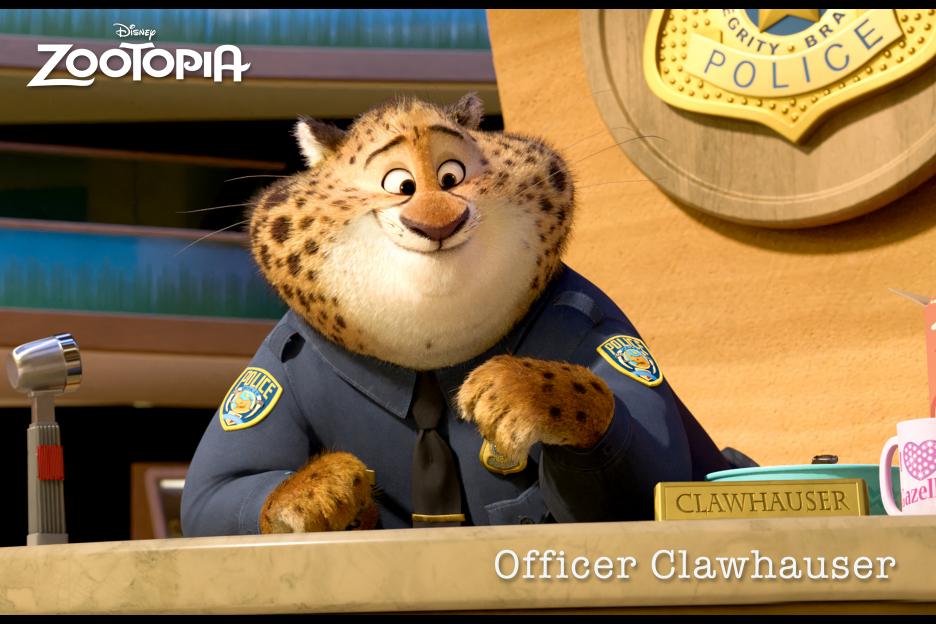 Favorite Scene:
Hands down, I love Mr. Big. I had no idea what kind of rodent he and had never even heard of an artic shrew before. This gave the kids and I a chance to have a mini science lesson. The crime lord overtones in this scene are outstanding. I actually felt kind of bad that my kids had no idea why I was laughing so hard. The giant polar bears make this scene very suspenseful and the perfectly played crime boss, will make all adults imagine they have suddenly entered an animated version of The Godfather.
Most Unexpected Laugh:
Naked animals. Yax the Yak (voiced by Tommy Chong)reminded me of The Pet Collector from The Good Dinosaur. The kids and I got such a laugh over the nudist colony animals. Of course, lots of adult humor here but all of it was over looked by my 11 and 7 year olds. However, they did think Yax was hysterical and probably laughed the loudest at his oblivious personality.
In addition to excellent character development, the team created a detailed multifaceted city to meet all the animals. Just as only Disney can do, their attention to even the smallest details, like hamster tube elevators for the rodents and giant elephant ice cream cones allows the viewer to forget that they are actually watching something completely make believe. If you are a true Disney fanatic, you will definitely see similarities to the "lands" of the parks, the bunny monorail and some of the other traditional Disney creative design. By far Little Rodentia was my favorite place and I wouldn't be surprised to see a Zootopia II or even Disney short focused on this small part of Zootopia.
Now, because I don't want to give away any big spoilers, I am just gonna leave you with this:
Zootopia is yet another magical Disney movie. It has all the thrills and spectacles that you have come to expect. It is perfectly casted, beautifully digitalized and cautiously political. Young or old, Zootopia should be a must see for your families plans this weekend.
A few notes:
There are s couple of "typically Disney" scary parts in this movie. While Ephraim thought the entire film was fantastic (he even said, he thinks it's his favorite ever), Lu adamantly did not like the suspenseful, dark scenes. While definitely appropriate for all ages, you may want to be prepared for some "cover your eyes" moments if you little ones are on the sensitive side.
My kids wanted to do "video" reviews this time around. They include significant spoilers because kids don't quiet get that part of reviewing movies yet. So don't watch these if don't want the plot ruined. (notice, I didn't even mention the main plot in this post 🙂
Ephraim's YouTube Video: https://youtu.be/BqgdZyzeBlQ
Lulu's YouTube Video: https://youtu.be/LWgUSKnOmhU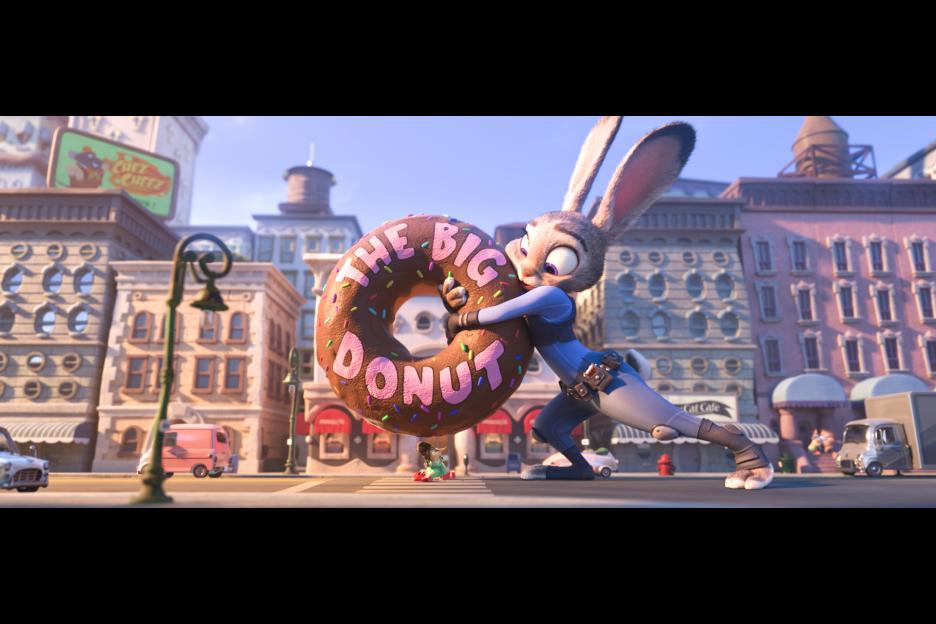 Connect with Zootopia:
Like ZOOTOPIA on Facebook: https://www.facebook.com/DisneyZootopia
Follow ZOOTOPIA on Twitter: https://twitter.com/DisneyZootopia
Follow Disney Animation on Instagram: https://instagram.com/disneyanimation/
Visit Disney Animation on Tumblr: http://disneyanimation.tumblr.com/
Visit the official ZOOTOPIA website here: http://movies.disney.com/zootopia
ZOOTOPIA opens in theatres everywhere on
March 4th

!

Disclaimer: My family and I were invited to see a preview of Zootopia. All thoughts, opinions and ideas listed are mine alone and are in no way influenced by sneaky foxes. Thank you to Disney Pictures for the additional images and media kit.