Cleaning, Cleaning, Cleaning. When you have three kids, a husband and a dog there is always a ton of laundry and dishes to be done. Finding products that are safe and effective for every corner of your home can often be a difficult task. That is why I am glad to be a member of Mom's Meet. They always find products that I would otherwise overlook such as Grab Green.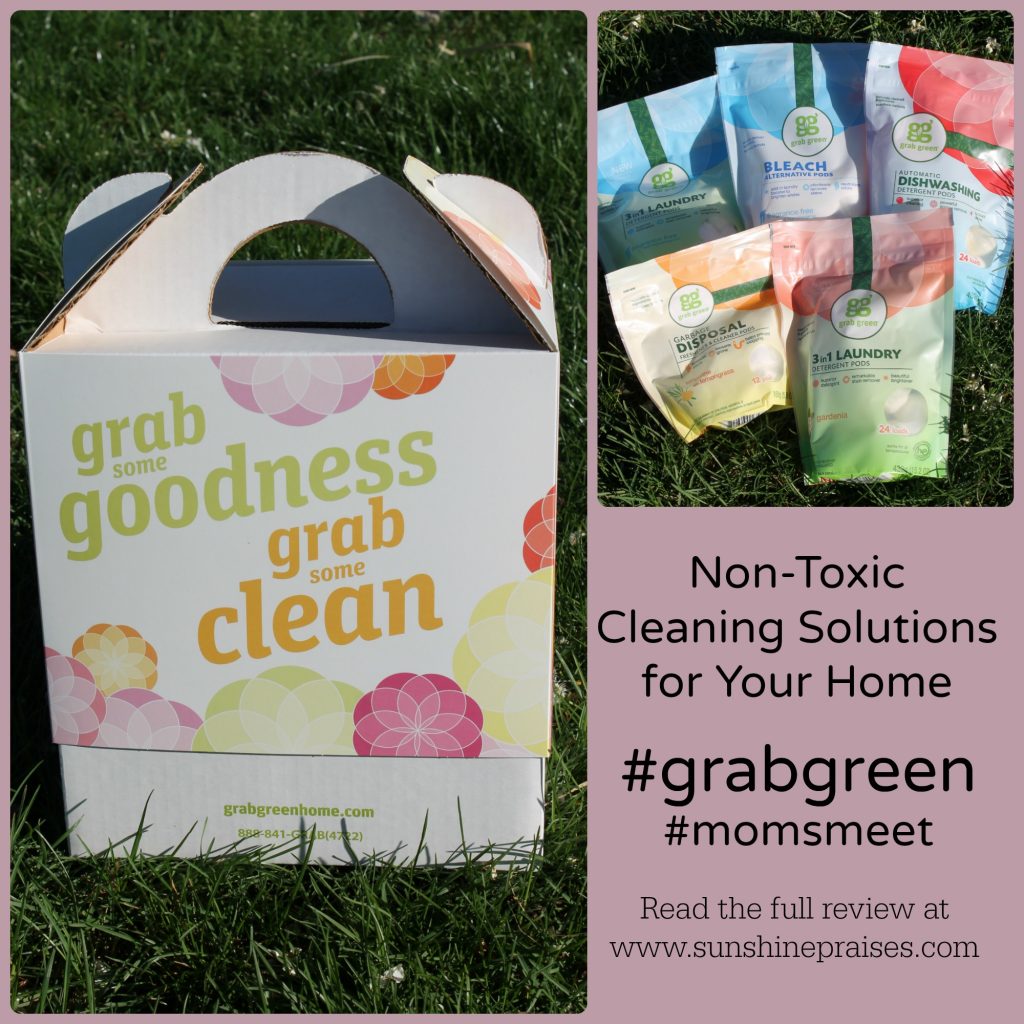 Grab Green has a wide variety of eco-responsible home care products that are gentle for you and the planet. For this review they sent me a selection of five of their popular items; 3:1 laundry pods (gardenia & unscented), bleach pods, dishwasher pods and disposal pods. Grab Green is available in both fragrance free and softer scents created with essential oils.
So what did I think? Let me break it down by product.
3:1 Laundry Pods 
I hate to admit it but because of cost and access, we normally use a name-brand detergent on our clothes and diapers. I always second guess that decision because sometimes with natural products it can be hard to get your clothes completely clean. Not with the Grab Green 3:1 Laundry Pods. The laundry pods contain a non-toxic detergent, fabric softener and a brighter. Because they are pre-measured, just throw it in the laundry and wash.
Verdict: Since my husband is the laundry genius in my home, I had to convince him to try something new. He liked the Grab Green laundry pods. I am not super keep on the gardenia scent but it is very mild and fades quickly. Our clothes were fresh and clean. I would definitely recommend for your house hold laundry use.
A 24-pack of the 3 in 1 Laundry Detergent Pods retails for $8.
Bleach Alternative Pods
We don't typically use bleach in our home but there are times when I employ the use of a bleach alternative to get rid of nasty odors or stains. Particularly, I like to use these types of products with my cloth diaper wet bags and pail liners. Nothing holds odor like a bag full of smelly diapers. I like the Grab Green Bleach alternative pods for this purpose. I used the bleach alternative pod with several wet bags, a pail liner and a couple of towels. There were no harsh chemical odors and all of the items came out fresh and clean.
In addition to using the pods in my laundry, I followed the suggestion on their website to clean and sterilize our diaper pail and it made a huge difference. We just added a bleach alternative pod to a gallon of hot water and let soak. Voila, no more stinky pail.
A 24-pack of the Bleach Alternative Pods retails for $7.
Dishwasher Detergent Pods
We have very hard water that often leaves spots and soap debris even after washing. It is very frustrating to have a dishwasher that doesn't actually wash, so needless to say, I am hesitant to try new things. With a little fuss from the husband, we tried the Grab Green Red Pear and Magnolia Dishwasher detergent. The plant and mineral based detergent is designed to cut through grease and grim while leaving dishes sparkly clean.
I had kind of forgotten about it when I smelled the most amazing smell. I thought I had put on my essential oil diffuser and forgot. That is when I realized it was actually the Grab Green dishwashing pod. It wasn't overwhelming at all. Very pleasant. When the cycle ended, I checked the dishes and they were all spotless and clean. No streaks and no left over mess.
A 24-pack of the Automatic Dishwashing Detergent Pods retails for $8.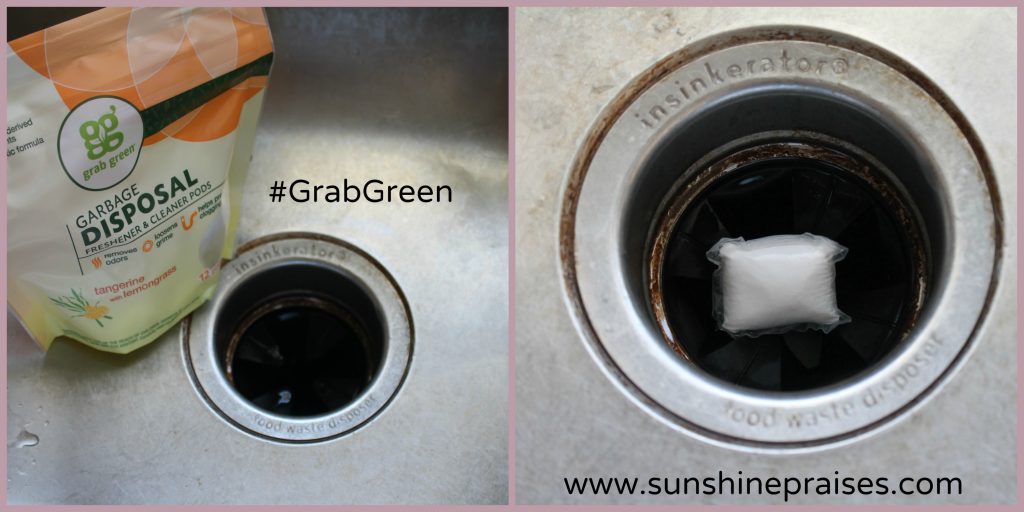 Garbage Disposal Cleaner Pods
A few weeks ago we had a major break down in our garbage disposal. Apparently one of my critters threw a bobby pin down in there and it got wrapped around the blades. We had to have the plumber out but before that I had to stick my hand down in there and I wanted to gag. While we regularly run water or toss down a lemon peel, I have never even considered the need for a cleaning agent.
The Grab Green website also says that you should not use hot water when cleaning the disposal which was a surprise to me. I always thought that hot water would kill more germs and bacteria. However, after reading their instructions, it totally makes sense. I have been using the pods for the past couple of weeks and have noticed that my disposal smells much fr
A 12-pack of the Garbage Disposal Freshener & Cleaner retails for $4.50.
Overview
Grab Green makes finding non-toxic options affordable and easy. They have several bundle choices that allow you to try or just buy a variety of products and receive free shipping from their website for purchases over $75.00. Grab Green has a whole array of cleaning products that I didn't even mention in this post. I encourage you to check out their whole website and see what other household products they can switch out for you.
Find and Follow Grab Green on:
ENTER TO WIN
Save 10% on your entire Grab Green order. Visit www.GrabGreenHome.com and use promo code GrabGreenSave10. Offer expires June 1, 2016.
Want to save 50%? If you email a copy of your Target receipt to [email protected] they will send you a 50% coupon to be used on www.GrabGreenHome.com.
Disclaimer: I received this product for free from the sponsor of the Moms Meet program, May Media Group LLC, who received it directly from the manufacturer. As a Moms Meet blogger, I agree to use this product and post my opinion on my blog. My opinions do not necessarily reflect the opinions of May Media Group LLC or the manufacturer of this product.