Shortly after Nyle Demarco won the coveted mirror ball a  NY Times post entitled Parents of Deaf Children, Stuck in the Middle of an Argument began making the rounds on Facebook. There was a beautiful picture of Nyle DiMarco and Peta as click bait for the reader but it wasn't an article applauding Nyle's accomplishment, no, it was another article bemoaning the fact that an unaided, unimplanted individual is finding successes and in turn perpetuating the great divide between parents who choose sign language and parents who do not.
Even though I knew what to expect, I couldn't resist the temptation to read the story and while I normally shy away from the comments, I read all of those too. Then I spent the next several hours frustrated and angry. As a parent of a Deaf child, one that is "culturally" deaf, who's primary language is ASL, I too am exhausted by the arguing. I am tired of listening to "educated" hearing people tell me the how and why my child will "never be successful," and how I am depriving him of a normal life because I am choosing to accept his deafness instead of fight it or try to change it. Trust me, it is just as draining to be on THIS side of the argument.
As a parent, when I read these personal news posts and the related comments, one of the most frustrating factors is that every single article always emphasizes this statistic: "90% of Deaf Children are born to hearing parents "(**although the number is probably a bit higher as this "statistic" is from the 1970's). Then the writer will conclude based on this sole fact that it only makes sense that these children learn to speak and function in what they view as "normal" society. Then like in every other article, the writer will eventually mention how the deaf/Deaf community always vilifies hearing parents for not choosing sign language.
Only don't you see how blatantly flawed this argument is?
If 90%(+) of deaf children are born to hearing parents, then who exactly is the Deaf community? Should we be so naïve to believe that ONLY the 7-10% of Deaf children being raised by Deaf parents create the single resounding voice that cries out to parents of deaf children to also include ASL and Deaf Culture in their children's lives?
I would like to suggest that maybe, just maybe these "deaf" people who are constantly being accused of creating the BIG DIVIDE are part of THE 90% raised by hearing families, who felt deprived, isolated, lonely. Who's siblings rarely made the effort to include them and who's father never once tried to find a way to communicate with them. Did you ever think that those individuals who fight so hard for the rights of Deaf children are fighting because they were once THE 90%.
And, if an oral only approach is so successful, where are all these people? Why are they not speaking up to tell us how happy they are? Preaching about how great their life is without sign language? Yes, I know there are a few outspoken individuals but if this method of communication is so successful, shouldn't their voices be just as strong or even stronger than the d/Deaf Community that is so often blasted in the media?
And just to clarify, I am not talking about the 16 year old who would do or say anything to please their parents and I am definitely not talking about the parent who wants to tell me how successful and thriving their child is thanks to their choice to not use sign language.
I am talking about oral deaf people that are now independent, functioning members of society. Who now have their own opinions and make their own choices. Who are thriving without sign in their communities.
I am talking about the real deaf people, pre-lingually deaf, raised in hearing only environment who are happy and content with their lack of sign language. Individuals that do not struggle with identity issues, who marry hearing partners, who don't need any "extra" help while in college or at work. Those who are comfortable in group settings, those who can hear easily on the phone and that other people can understand?
Where are they?
With millions of deaf people falling in the 90% category, why don't we see them out and about in our communities? Why don't we interact with them in our daily lives more often? Why are they not our children's teachers in a regular public classroom or a manager at a local restaurant? Why are they not our favorite soccer coach, dental hygienist or hair stylist?
Where are the 90% of deaf children born to hearing parents that don't want or who have never needed sign language or Deaf culture?
Let's just think about that for a minute. How many non signing, oral only deaf people do you interact with in your every day life?
Does anyone see the flawed argument here? Can we just humor ourselves a bit and maybe assume that the d/Deaf community that feels so strongly about children having access to ASL and Deaf Culture are part of the 90%? Maybe not all of them. I am sure there are some who were raised oral and enjoy that life, having no need for other deaf people, but there is plenty of anecdotal evidence that shows a large number of young adults leave their oral only homes and desperately seek sign language and the Deaf community.
During the #WhyISign campaign, video after video of deaf adults shared heartbreaking stories of loneliness and isolation and each and every story ended the same, with that single moment when they found sign language for the very fist time. Why do we as parents of deaf children let doctors, audiologists and speech therapists, many who have never actually interacted with a real deaf person, tell us what is best for our child, yet we blatantly ignore and even silence the voices of the those who know first hand what it is like to live fully between both worlds?
If we just took time to learn WHY those horrible, "parent choice" stealing, "Deaf Culture" people are so passionate about our deaf children, might we actually learn that they are simply speaking out of their own loss and pain? Might we be able to see past the fear and worry perpetuated by the medical community and embrace both cultures for our children? Might we learn that it is not one or the other? But both.
Now before you tar and feather me, please know that I am absolutely not against anyone's choice for their child. I understand the difficult road that you are walking. I understand the crazy amount of information and decisions you are forced to make. I truly do. I am just asking for you to take a minute and consider who makes up the Deaf community and why they are so passionate about your child.
Because maybe, just maybe your child reminds them of themselves.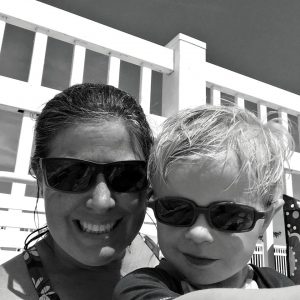 Here come the arguments:

I have had the joy and the frustration of writing on topics of deafness for the past 3 years so let me predict some of the comments I will receive…
Technology is better than it has ever been so we as parents are depriving our child a normal life by not choosing implants. Part of this is very true. Technology, specifically cochlear implants have made amazing improvements over the past decade but they don't work for every child and there are still limits in how they function. Children with CI's have to work exceptionally hard to "learn" to hear. Young adults with upgraded CI's report difficulty hearing in group settings, through the phone and when they can not see a person's face.  Also, not every child qualifies or benefits for these devices. ASL should not be offered to parents only when their child FAILS at being hearing with their implants or hearing aids.
You are brainwashed. One of "them." This was actually a real comment on another post of mine. I am proud to be married to a Deaf man, raising a deaf child. Long before I met him or gave birth, I was an advocate for deaf children. Until you have sat in the room and interpreted for a 12 year old to a non-signing parent that they had been being sexually abused by a sibling, you don't get to tell me that I am brainwashed. I have seen the worst of the failed oral kids. It is not pretty.
My child doesn't need sign language. True. Your child probably doesn't. Because you have the extensive means and financial abilities to provide your middle or upper class child with an abundance of speech therapy and interventions. However, the reality is that there is a ridiculous number of deaf children, born to hearing parents that can not regularly access the services necessary to truly remove the need for sign language. Every year deaf children are still coming into pre-k programs with ZERO language. So instead of making this fight about your choice, why don't you become a vocal proponent that no deaf child suffers from language deprivation. 
Comments on all my blog posts are always open and answered. I have a deep respect for communication and exchanges of thoughts and ideas. We can only learn from each other. If you choose to comment, please do so respectfully and kindly. I reserve the right to remove comments that belittle or bully individuals on either side of an argument and will do so without apology. 
** In a 2002 Gallaudet University research study, they concluded that the actual number is around 93-95%.