Today, I am a self proclaimed, Facebook over preaching, parking lot stalking car seat zealot advocate. It wasn't always the case, I was once very naïve to the important of car seat safety. I turned my oldest around at 11 months and he was in a high-back booster the day he turned three. So I get it. I very much understand the why's and how's of poor car seat decisions. Over the years as I have learned more about car seats, I have become a strong advocate for extended rear facing, choosing quality seats and correct, professional installation. One area that is often overlooked is routine car seat care and maintenance.
Let me ask you, how often do you "check" your car seat? Have you ever cleaned out the piles of gold fish and sticky fruit bunnies from the inside of the car seat? Do you check your straps to make sure they are still properly connected and there are no frays or separating? Are the buckles and the metal clips clean?
Do you practice routine car seat care? Have you removed the cover to make sure all the foam pieces are attached properly? Would you have considered this a concern?
I have to be completely honest, never in my life would have worried about the EPS (Expanded Polystyrene) coming completely loose on my car seats. I pride myself on purchasing high end, well made car seats. My Diono car seats were less than a 18 months old when I pulled them out of the car to do a clean and check. When I removed the covers to wash them, I found that the over half of the EPS foam was either completely unfastened or loose. Large pieces just fell off completely. You can see in the pictures that the glue remnants are visible and that the EPS pieces are whole and intact. It is literally like they just popped off.
I was shocked. Never would I have expected to have this type of defect in an expensive car seat. Even more concerning is what if we had been in an accident? Would the car seats have protected my children? As soon as I realized there was a problem, I contacted the Diono company by phone. I spoke with a representative who said this was a common issue and as long as the pieces were not "broken or damaged" that they could be reattached by using a hot glue gun. Her one concern was that the pieces were intact and she requested me to send pictures of both car seats.
I felt nauseous. We had no alternative car seats at that moment and I didn't feel confident that these "fixes" were the right plan. Following customer services request, I sent in pictures of all the detached foam. In the mean time, we put the better of the two car seats in my van and the other in the garage.
Here is a collage of some of the images I sent: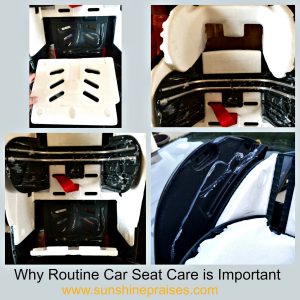 After three days, I received the following email from Diono customer support detailing the EPS foam information and responding to my particular case: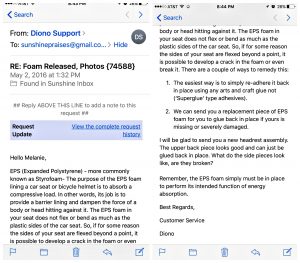 I want to be completely transparent, I did respond to Diono and ask them if they were completely sure that this would fix my problem. I received the following response and then I dropped it.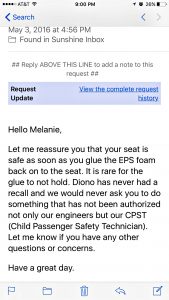 I am actually a little disappointed in myself. I really wish that I would have made more of a fuss about the car seats. A one year limited warranty on a product that does not expire for 10 years seems to be less than acceptable. I am not sure why but when I called them the first time I really expected them to replace both seats immediately. Being told to use a hot glue gun and fix them myself seems less than appropriate for such an important item.
For months our second seat sat in the garage and we only used our van when traveling with our little one. I did hot glue the EPS foam back on both car seats and checked it to make sure I had it securely fastened. I used a ridiculous about of glue so I am sure they will never come off again. Regardless,  I still just could not shake the worry that the foam pieces were not secure. The worry that my child was not fully protected.  We replaced the two Diono car seats in our van with another brand and we kept the one in our second car.
While I was very disappointed in Diono's response, it did stress to me the importance of sharing our experience and encouraging all my readers to ALWAYS check your car seats, regardless of the brand. Be vigilant about car seat safety and please don't just assume that because you spend $300 on something that there can't be something wrong with it.
Car seat safety is a very important issue. Have you checked your car seats lately?