In 1996 after my friend Jenny died, we placed a tall white wooden cross at the accident site. It was such a powerful healing moment. Not only did all of her friends come out to the site but  the first responders who had tended to her at the accident scene also joined us. The cross contained the initials and little snippets of all of those who loved her. The event of making, placing and leaving the cross was cathartic. It was deep and painful but it was also healing and peaceful. It is a representation of all our anguish left on the side of the road as a small reminder of her.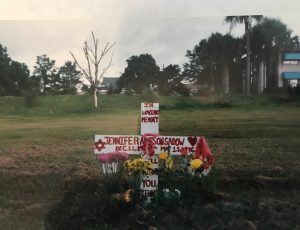 I am not sure of the year that Florida changed their rules, but at some point all the crosses in the state were removed and replaced with circular markers. In her group, we referred to the circular marker as a lollipop. The marker is simple. It doesn't hold the same power that the original cross did but it still makes my chest heavy when I drive past them anywhere in the state.
It is here where I live so acutely in the land of lollipops.
We moved back to my little college town three years ago. It has been almost 24 years since we stood in that grassy patch with the heavy weight of grief and while so many things have changed, so many more have remained the same.  The one thing that has not changed is the amount of memories that impale my heart at every little turn. Every little cobble stone street. Sidewalk cracks. Chocolate chip cookies and fragrant magnolias. Each of them simultaneously hold the deepest pains and the most intense joy.
It is strange to find yourself caught in the familiarity of the past but then clearly in the present. Knowing that there is something in your heart that has changed but can't be fully replaced. The feeling of seeing your small child mesmerized by the rainbow prisms of a crystal and remembering the other smile you once saw do the same. Tasting the familiar flavors, saying the same things, walking the same paths, seeing the same shadows. The familiar past is always mixed with the now daily present. Each window of those spaces containing the reflection of a ghost.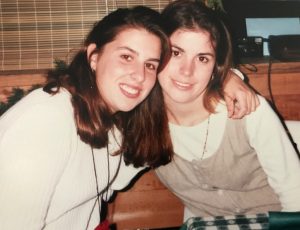 That is what death does to a person. It creates lollipops of the familiar all across your landscapes. They burden your days with intimate feelings of the recognizable and a simultaneous understanding that life will never be the same. 
Those memories that once brought joy now are veiled in a fine layer of loss. And even when you attempt to overwrite the pain, the grief often expands into the small crevices like sand in the wind. Markers of where the past and present overlap and joy and sorrow meld into one.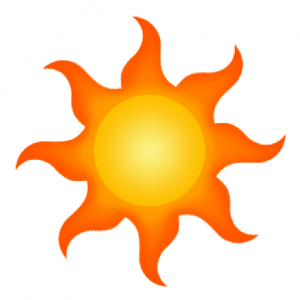 In Memory of Jenny Sadow
Please Don't Drink and Drive!