*This post contains affiliate links.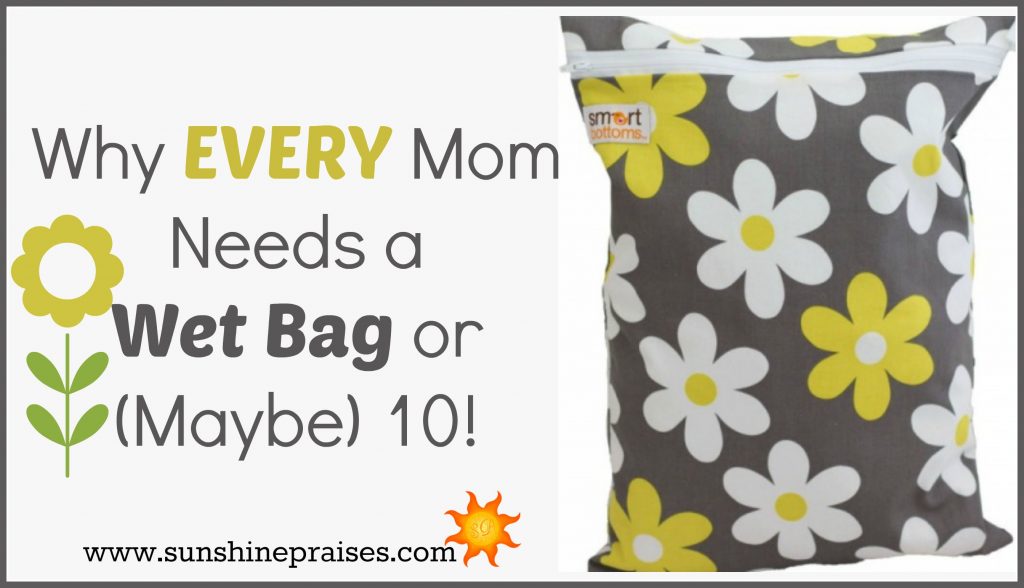 Wet bag? What is a wet bag you ask? In the cloth diapering world, wet bags are the way you store and transport your stinky dirty diapers. However, most cloth diapering Mom's eventually stop cloth diapering yet still find a host of amazing uses for their wet bags.
Wet bags come in a variety of sizes, colors, patterns and styles. There are SUPER large ones that can hold 24 or more diapers and little tiny ones that hold a single diaper. There are draw string bags, snapped bags and zippered bags. Most wet bags are made with a single layer of PUL (polyurethane laminated fabric) that creates a water (and smell) resistant barrier for damp or wet items that are placed inside the bag. While not waterproof, they do prevent all kinds of messes from spoiling the rest of the items in your bag.
The one thing that bugs me is that wet bags seem to be relegated to the cloth diapering community, which really does them a disservice because of all of their amazing uses. I truly believe that EVERY child filled home could use 2 or 10 of these simple, eco friendly bags.
Don't cloth diaper? Don't worry. Here is a handful of other ways you will love using a wet bags.
Small Bags
Great for bibs! Keep a couple of clean bibs in the diaper bag, when they are dirty, toss them in a small wet bag.
Snacks! Most small wet bags are easy to wash out. Toss in those goldfish, bunnies or Cheerios. No more plastic.
Pacifiers! Extra pacifiers, nipples, spoons, or teethers. Keep them dry and organized.
Cosmetic Bags! Keep your purse clean by having a little bag of all the necessities.
*I love my small bag from Maxwell Designs. It's perfect for a day at the beach.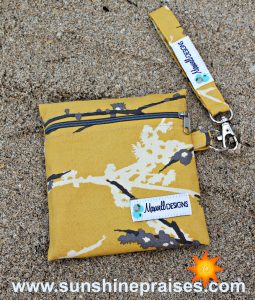 Medium Bags
Change of clothes! I have 1-2 bags that have clean clothes in them. Messy baby, spilled his milk? No worries, out come the clean clothes, in goes the dirty clothes.
Traveling! Medium bags are perfect for a pile of flip-flops, most average size shoes and all your "liquids" like shampoo, conditioner, lotion, face cream.
Dish Towels! Toss your dirty dish and cleaning towels into a bag under the sink.
*I love my Medium Wet Bags from Smart Bottoms. Their bags are great quality, fun prints and the side zipper keeps them from getting all bunched up.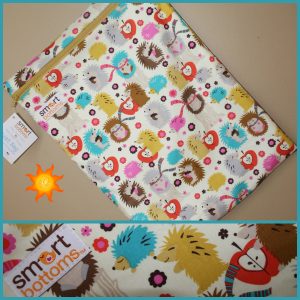 Large Bags
Dirty Laundry! Keep a hanging bag in each bedroom and have your kids use them to collect their dirty laundry.
Baby Carrier Bags! I like to store my Tula in a medium or large wet bag in the car. I use the hook to hang it from the grocery bag hooks in the back of my van.
Pool Towels and Bathing Suits! Getting ready to leave for the day? Toss all the wet towels in a wet bag. No leaks, no wet car seats.
Other ideas I have seen:
Produce bags
Small toys and crayons
Cloth Wipes
Gym Bags
Sneaker Bags
See! There are a dozen or more ways to keep your belongings, baby gear and suit cases mess free by using these great eco-friendly wet bags. Buy some today at my favorite retailer: Sprout Soup! Or online at Amazon !